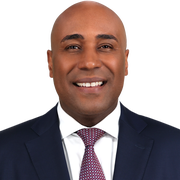 Shomari Stone
Anchor & Reporter
Shomari Stone joined FOX 5 DC in May 2023 as an Anchor and Reporter.
Stone is a 7-time Emmy and 2-time Edward R. Murrow award-winning journalist, coming to FOX 5 from CNBC. He was a correspondent for "The News with Shepard Smith," based at the network's Washington, D.C. bureau. He spent over 10 years as a general assignment reporter at WRC, an NBC owned television station in Washington, D.C.
Prior to WRC, he served as a reporter for KOMO in Seattle, CBS Miami, and WINK in Fort Myers, Florida.
Throughout his on-air career, he has reported on a multitude of high-profile stories across the country including Hurricane Ian, the expansion of Veterans' health care benefits, the Buffalo mass shooting, the January 6 insurrection at the U.S. Capitol, the bombing at the Boston Marathon, immigration reform, the local impact of Cuban dictator Fidel Castro's relinquished power and the fall of Haitian President Jean Bertrand Aristide, as well as an exclusive interview with Trayvon Martin's parents while they were in Washington, among others.
He is a graduate of the University of Michigan, where he received six journalism awards. He enjoys spending time with his family, cheering for his son, Shomari Stone II, on the University of Michigan Football team, playing golf, hosting charity events and galas, along with mentoring and volunteering with the youth. 
Follow Shomari Stone on Twitter and Instagram at @shomaristone and on Facebook at @ShomariStoneFOX5DC
The latest from Shomari Stone