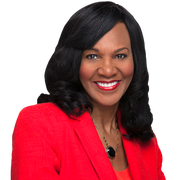 Gwen Tolbart
Meteorologist
I'm a third generation born Canadian who loves the snow, but hates the cold!
My broadcasting career began in my birthplace of Montreal, Quebec, Canada. I have a BA in Journalism from Montreal's Concordia University and a Social Science graduate of Dawson College. I started in Community Tv as a Host/Producer of the Black Community Com-munications Media's news magazine program "Black Is" and contrib-uted to the radio show, "Black Speaks."
Next was Canada's nationally-aired "Weather Network" as a Weather and News Anchor and CTV's Montreal CFCF-12 as a Weather Anchor, Reporter on the consumer advocacy program "Fighting Back" and host on the internationally syndicated, award-winning travel show, "Travel, Travel."
In 1997 I headed to KTVT CBS-11 in Dallas, TX as a Weather Anchor, Feature Reporter and Host of the station's Live audience talk show, "Positively Texas". I earned a Weather Team Emmy, five National Association of Black Journalists Broadcasting Awards and "2000 Me-dia Person Of the Year" award.
In 2002, I came to the Nation's Capital and WTTG FOX 5 DC as a Weather Anchor and Reporter and have since earned five Emmy nominations and three Associated Press awards.
With strong community commitment, interest in youth, women's caus-es and reinforcing positive direction I've always been active in com-munity service in both Canada and the USA.
In Montreal one of my projects was "Positive Images," a mentoring program I established for adolescent inner city girls. One highlight - I arranged for the girls to meet Coretta Scott King.
While at CBS in Dallas, I tutored elementary school children, helped set up mentor programs and workshops for at-risk girls and single teen moms. I received the prestigious National Association of Black Journalists' "National Community Service Award" (NABJ) was featured in Jet Magazine and in 2002 received a "Woman of Distinction Award" with official commendations from the Governor of Texas, Texas State Representative and the United States Congress.
I was officially recognized on the floor by the Nova Scotia House of Assembly - Government of Canada in 2002 for my career achievements and community service.
In the Washington, D.C., I served on the Board of the Juvenile Diabe-tes Research Foundation and for fourteen years, on the Board of "Our House," (a residential program for at-risk adolescent males) in Olney MD where I coordinated programs and raised major funds for a new dorm.
Since being in D.C., I have received the "2004 Voices Against Violence Award" from The Empower Program (serving teen girls), D.C.'s Zeta Phi Beta Sorority, Inc. "2005 Woman Of The Year" (non-member), the "2009 New Endeavors By Women Volunteer Award" (serving home-less women), was named one of the "2014 Top 100 Women In the State of Maryland" by The Daily Record and in 2018 honored by Com-fort Cases (serving foster children) with the "Champion Of the Year Award. My alma mater, Concordia University used me in a billboard campaign to promote education and I was named a "Leader and Honorary  Member" of the All-Canada University Association, Washington DC Metro Area.
In 2016 I was truly humbled and honored to receive a distinguished recognition, President Obama's "Lifetime Achievement Award for Community Service."
As an entrepreneur, I have my own professional speaking business "Tolbart Talks" and work as a Motivational and Keynote Speaker, Emcee, Seminar leader and Speaking Coach.
I am a member of the National Speaker's Association (NSA), as well as a former Board Member of the D.C. NSA Chapter. I was First Runner-Up in the "NSA USA National Keynote Speaking Competition."
I have a love of life and positivity with a special place in my heart for  animals - especially dogs, elephants and pandas. You can see me reporting stories on Wednesdays and Thursdays on our evening shows and giving weather forecasts on Friday, Saturday and Sunday nights.
Thank you for watching me on FOX 5!
The latest from Gwen Tolbart