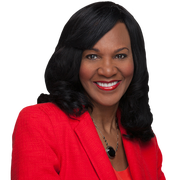 Gwen Tolbart
Meteorologist
As a third-generation born Canadian you would think that when I am forecasting the cold days and snow of winter I would have no complaints.
However, that is far from the truth. I began my broadcasting career in my home of Montreal, Quebec, Canada as a host/producer of the Black Community Communications Media's news magazine program Black Is, and contributing to their radio broadcast Black Speaks, not knowing at the time that my path would veer into world of weather forecasting for many years to come.
That path began at Canada's nationally-aired Weather Network. I worked as a weather and news anchor and then at CTV's CFCF-12 as a weather anchor, a reporter on the consumer advocacy program Fighting Back, and as a host on the internationally-syndicated, award-winning travel show, Travel, Travel.
It was five years in the mild climate and hot days of Texas that turned me against my Canadian winter roots, when in 1997 I landed at KTVT CBS-11 in Dallas as a weather anchor, feature reporter and host of the station's talk show Positively Texas. The Texas sun shone brightly on me while I was there with being a part of a weather team Emmy award and winning five National Association of Black Journalists broadcasting awards.
In 2002, I left the Lone Star State and headed north to the nation's capital to FOX 5 DC, where my storm forecasts are always challenged not -- by my viewers but by the mountains of West Virginia - that being, "Will the storms survive the mountains to make it to DC?"
My work with that challenge and more with my forecasting at FOX 5 has so far earned me five Emmy nominations and a few Associated Press awards. I once thought about being a social worker, so I have a strong community commitment, interest in youth, women's causes and reinforcing positive direction in people and have supported many non-profit organizations of all kinds in both Canada and the USA as a board member and/or volunteer.
I say I ended up being what I call a "Media Social Worker." In Montreal, I founded "Positive Images," a mentoring project for adolescent girls and arranged for the girls to meet Coretta Scott King.
In Dallas, I helped set up mentor programs and workshops for at-risk girls and single teen mothers and tutored elementary school children. Here in Washington, D.C., I sat on the Board of the Juvenile Diabetes Research Foundation and currently sit on the Board of "Our House," a residential program for at-risk adolescent males.
The Empower Program (teen girls) awarded me their 2004 Voices Against Violence Award for my overall positive contribution to the lives of young people, and "New Endeavors By Women," a D.C. organization that serves homeless women has honored me for my volunteer work with them.
I am humbled and appreciative of the numerous recognitions and awards I have received for my civic and professional work in both Canada & the USA, including from the governments of both countries.
I was honored with the prestigious National Association of Black Journalists'(NABJ) National Community Service Award. In 2002, I was named a Woman of Distinction Award in Texas, with official commendations from the Governor of Texas, Texas State Representative and the United States Congress. I have been officially recognized by the Nova Scotia House of Assembly - Government of Canada. Washington D.C.'s Zeta Phi Beta Sorority, Inc. named me 2005 Woman Of The Year, and most recently I was named as one of the 2014 Top 100 Women In the State of Maryland by the publication The Daily Record, which recognizes women for their outstanding achievement by women demonstrated through professional accomplishments, community leadership and mentoring.
I have a BA in journalism from Montreal's Concordia University and am a social science graduate of Dawson College in Montreal. Just in case I do not have enough going on in my life, I have added entrepreneur to the list! I have my own professional speaking business and work as a motivational and keynote speaker (for all ages), emcee, seminar leader and coach.
I am a member of the National Speaking Association (NSA), and former board member of the D.C. Chapter. I was first runner-up in the 2012 NSA USA National Keynote Speaking Competition, so I guess TV has helped me have the gift of gab!
The latest from Gwen Tolbart