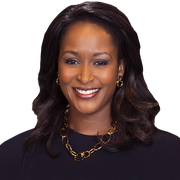 I remember watching the news as a kid growing up in Chicago and seeing one of my favorite reporters taking on city hall and fighting for the little guy. He was something like a superhero, and I wanted to be just like him.
I'm proud to say that I've achieved the goal of becoming a reporter, and even more proud to know that some of my stories have helped make a difference.
Hello, everyone! My name is Maureen Umeh and I'm an anchor and reporter for FOX 5 Morning. It's a new shift for me after being here at FOX 5 since 2002 and anchoring and reporting on mostly the evening and weekend newscasts.
The early hours are taking some adjustment, but boy am I having fun. I mean, on what other show can you go from covering something serious at the White House to dancing with a celebrity, and laughing till you cry with a famous comedian? It's a whirlwind, and I'm so glad to hear from so many of you who tell me how much you enjoy our shows.
My career in TV started many moons ago in Champaign, Illinois. I was lucky to land a full-time reporting job at WCIA-TV right after I graduated from the University of Illinois at Champaign-Urbana.
I worked so hard to get that job. I had a radio talk show and also DJ'd. I wrote for the university newspaper, and then I worked at the TV station. I did anything I thought would give me the experience needed to be a better journalist. It wasn't always fun, but it proves that hard work does pay off.
My next stop was Greenville-Spartanburg, South Carolina where I served as one of the main anchors for the late evening newscasts at WSPA-TV. I had such an amazing experience there and treasure the memories.
I've been honored with several awards for my work. They include an Emmy for Best Investigative Series and Best Newscast. I've also been honored by many other organizations, including the South Carolina Television and Arts Association; the Illinois Broadcaster's Association and the NAACP.
I served as the Chairwoman for the Upstate Leadership Council of the American Cancer Society and also worked with nonprofit organizations including Big Brothers, Big Sisters and Mathew House, an agency for disadvantaged youth. With that said, my biggest accomplishment is my daughter.
She is a dream come true, and I am so grateful to be her Mom. In my free time, I love to travel. What Nigerian doesn't? Yes, I am full Nigerian. Born there, partially bred there. Ask me how I got rid of my accent or learned to pronounce the word, "fork." Now, how's that for a tease? Thank you for watching and allowing me the honor of bringing you the news.
The latest from Maureen Umeh