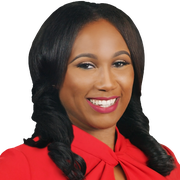 There is no place like home! After more than a decade of reporting and anchoring across the country, I am excited to return home and join FOX 5 News! I was born in Brooklyn, New York and raised in Montclair in northern Virginia, where I attended elementary, middle and high school.
I graduated from Virginia Tech with a Bachelor of Arts degree in Journalism. GO HOKIES! I also studied abroad in Cuernavaca, Mexico and received my Certification in Spanish from La Universidad de Internacional.
I joined FOX 5 after spending more than four years as a reporter and fill-in anchor at FOX 32 News in Chicago, Illinois. While there, I covered breaking news from the front lines of NATO, a historic Chicago Teachers Union Strike and the 2012 Presidential Election.
I even embedded overnight with Occupy Chicago and documented the experience on my iPhone! I also weathered and survived the Windy City's blistering cold including the Blizzard of 2011, Polar Vortex of 2014 and the Blizzard of 2015! One of my most cherished moments in Chicago was creating Sisters Peak, a youth mentoring program designed to help female students climb to their peak of success and achievement.
Prior to joining FOX 32 News, I was an anchor and reporter at the FOX affiliate in Indianapolis, Indiana. While there, I covered stories that made national headlines including a deadly teen bullying case, Indiana Governor Mitch Daniels' take on 2010 and the Indianapolis Colts' road to Super Bowl XLIV.
I would have to say my four years at WTVJ, the NBC station in Miami, was the catalyst for my passion to tell a good story! In Miami, I covered hurricane season; conflicts in Haiti and Cuba, including the transition of power in Cuba when leader Fidel Castro fell ill; the 2008 presidential campaign, the inauguration of President Barack Obama and Anna Nicole Smith's death.
I even enjoyed success working at WSFL, the CW affiliate in Miami, FL, where I worked on its inaugural morning program, "The Morning Show," and anchored news headlines.
I began my broadcast journalism career in 2002 in New York, working behind the scenes at Fox News Channel on At Large with Geraldo Rivera and The Big Story Weekend Edition with Rita Cosby. Two years later, I became a reporter and fill-in anchor at KGET, the NBC affiliate in Bakersfield, California.
I got my first taste of television at 14 years old as a "Posse Member" on Black Entertainment Television (BET) talk show Teen Summit based in Washington, D.C. At BET, I appeared in Kaiser Permanente's national "Rap-It-Up" public service announcement which focused on HIV and AIDS awareness.
I am a proud volunteer with several organizations including the Miss America Organization, NAACP and Habitat for Humanity. Before chasing news, I played classical piano for more than a decade, violin for two years and the Alto B saxophone for three years, so I love music! I also performed with DC Youth Ensemble based at The Duke Ellington School of Performing Arts in Washington, D.C.
I draw inspiration from my mother, who I consider my best friend! I am a member of the National Association of Black Journalists and the National Academy of Television Arts and Sciences.
The latest from Tisha Lewis