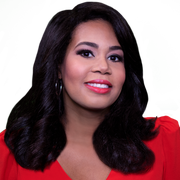 Jennifer Delgado
Meteorologist
Most recently, Jennifer Delgado served as a  meteorologist for FOX's WAGA in Atlanta, and before that, WXIA in Atlanta.
Jennifer is quite  familiar with the DMV's ever changing weather as she spent nearly ten years covering it on the national level.
She previously spent three years as a meteorologist for The Weather Channel in Atlanta. Delgado was also a meteorologist for CNN and CNN International in Atlanta from 2008-13.
That's where she honed her skills covering everything from tsunamis, earthquakes, hurricanes and tornadoes. Delgado, a cancer survivor, took a break from weather to undergo a lifesaving bone marrow transplant and is a big supporter of the Leukemia & Lymphoma Society and pet therapy.
Jennifer is thrilled to call D.C. home and is exploring the city with her three pups.
 
The latest from Jennifer Delgado