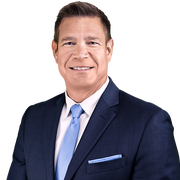 I may have been born and raised outside of Pittsburgh but truly felt like I came back home when I re-joined FOX 5 in 2013. I moved to DC to first work at WTTG in 2003 and have now spent almost a decade waking up in the middle of the night to help the DC region get the day started.
You should join me from 6 a.m. through 10 a.m. as I co-host FOX 5 Morning and Good Day DC. It's been a great ride so far as I've had the chance to interview hundreds of top athletes, newsmakers, politicians and celebrities, from talking business and music with 50 Cent to skating with the Washington Capitals, flying with the Blue Angels and sitting down with first lady Michelle Obama at the White House.
Away from the anchor desk, I spent almost a year on Capitol Hill covering Congress and our nation's political machine daily. It was a dream come true for a guy who grew up in a farming community light years away from the U.S. Capitol.
After graduating with high honors from Clarion University, I started my journalistic journey working in radio before talking my way into a TV sports reporting job covering high school football before graduating to cover the NCAA and NFL.
Then it was on to a news job in Ohio for a few years before heading to Pittsburgh, and then here to Washington. I'm a breaking news junkie and some of my favorite stories include non-stop coverage of a week-long mine rescue in Pennsylvania and reporting from New Orleans in the immediate aftermath of Hurricane Katrina.
I love to travel and my dream job has me chasing the headlines all around the world. I've been fortunate to win two prestigious Edward R. Murrow Awards and six Emmys while at FOX 5, including Best Anchor Emmy three times. Away from work, you can find me on one of our local softball or baseball fields, the gym, a snowboard slope, guitar shop or running around the monuments. Stop and wave if you see me, or tweet me anytime!
The latest from Steve Chenevey