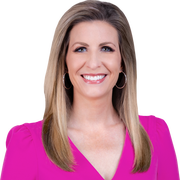 Caitlin Roth
Meteorologist
Hi, I'm Caitlin Roth, from the FOX 5 Weather Team. I'm a meteorologist hailing from the Philadelphia suburbs, which was actually my most recent stop in TV. While there, I was a weekend meteorologist and co-host with morning traffic fill-in.
The Blizzard of '96 that brought 30 inches of snow to the Philadelphia area first piqued my interest in weather.
I attended Penn State University, where I received my degree in meteorology. Most recently, I was awarded the Certified Broadcast Meteorologist certification from the American Meteorological Society.
While still at Penn State, I got my start broadcasting the weather at Accuweather in State College, Pennsylvania.
From there, I headed to WOWT in Omaha, Nebraska, and experienced everything from 110 mph straight-line winds to -30 degree wind chills.
No tornado sightings, though.
Then I headed back to the East Coast, joining WTXF and the FOX 29 weather team in Philly. While not working, you'll find me learning everything there is to know about D.C., Virginia and Maryland -- from the roads to the sports teams.
I love to be outdoors and try to be active as possible, from hiking and running to traveling-- especially any area's hidden gems.
The latest from Caitlin Roth