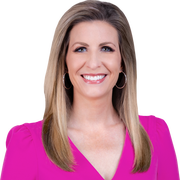 Caitlin Roth
Meteorologist
Hi, I'm Caitlin Roth, from the FOX 5 Weather Team. I'm a meteorologist hailing from the Philadelphia suburbs, which was actually my most recent stop in TV. While there, I was a weekend meteorologist and co-host with morning traffic fill-in.
The Blizzard of '96 that brought 30 inches of snow to the Philadelphia area first piqued my interest in weather.
I attended Penn State University, where I received my degree in meteorology. Most recently, I was awarded the Certified Broadcast Meteorologist certification from the American Meteorological Society.
While still at Penn State, I got my start broadcasting the weather at Accuweather in State College, Pennsylvania.
From there, I headed to WOWT in Omaha, Nebraska, and experienced everything from 110 mph straight-line winds to -30 degree wind chills.
No tornado sightings, though.
Then I headed back to the East Coast, joining WTXF and the FOX 29 weather team in Philly. While not working, you'll find me learning everything there is to know about D.C., Virginia and Maryland -- from the roads to the sports teams.
I love to be outdoors and try to be active as possible, from hiking and running to traveling-- especially any area's hidden gems.
The latest from Caitlin Roth
Friday will be just about a perfect spring day! Temperatures may be cold to start, but continued sunshine with light winds will bring comfortable middle 60s by the afternoon.
After a cool and breezy Thursday morning, get ready for a little more sunshine in the afternoon. Freeze watches are expected for Thursday evening. 
It's just about the perfect spring day! Chilly to start, but light winds and sunshine will warm us nicely into the lower 70s in the afternoon.
Another day with temperatures expected to peak around 80° before a cold front starts sliding in from the west during the afternoon.
Clouds and some showers are to be expected during the Tuesday morning commute, but the rain will be very light until the later evening hours.
There are only five days until the official start of winter, but Mother Nature decided to celebrate a little early this year with a winter storm that impacted a large portion of the D.C. region Wednesday.
A Wind Advisory in effect for D.C. and surrounding counties until 4 a.m. Friday. 
If you haven't heard – two of our own are tying the knot! Tucker Barnes and Caitlin Roth are getting married!
Get ready for a big change in the forecast Friday! It will feel like a completely different season around the D.C. region (A Taste of Fall!) after Thursday's record breaking heat.