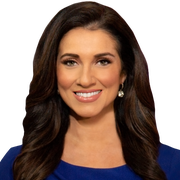 Shirin Rajaee
Anchor/Reporter
Who would have thought this California girl would be living in D.C.? What an amazing opportunity! I'm so thrilled to be here.
I remember years ago, before I even landed my first job in news, my brother and I visited D.C. as he was interviewing for medical school. I fell in love with the energy of this beautiful, vibrant and diverse city. My brother even videotaped me doing mock news reports in front of the White House for my résumé tape. Now, it's pretty amazing to see that story come full circle.
I got my start in news working behind the scenes at CNN in Los Angeles (my hometown). I owe a lot to my CNN family who believed in me, trained me and who ultimately helped launch my career.
This is not an easy job, and I hold a lot of respect and gratitude for those who have helped shape me into the journalist I am today.
I joined FOX 5 in January 2020 as the weekend evening anchor and nightside reporter. Before I got here, for the past four years, I was the weeknight evening anchor/reporter for KOVR CBS in Sacramento, where I covered state politics and big breaking news stories, including the Northern California wildfires, mass shootings in Gilroy and Las Vegas as well as immigration and terrorism stories. Prior to CBS, I was an anchor/reporter for KEYT ABC in Santa Barbara.
I would say my favorite person to interview has been Oprah. The story that has had the biggest impact on me was the nearly two years of continuous coverage of the controversial police shooting of Stephon Clark in Sacramento that drew national attention.
On a personal note, I come from a big Iranian and Middle Eastern family. (Think My Big Fat Greek Wedding!) My parents and brother's family live in Los Angeles.
I also just recently got engaged! Which means, yes, I'm in full-blown wedding planning mode, counting down to our 2020 summer wedding in San Diego! Things are a bit crazy! My fiancé and I were competing anchors in Sacramento, but now we play nice on the same team. We're so excited to check out all the sites and history D.C. has to offer.
I'm a big foodie and I'm always looking for a good concert or live music event! If anyone has suggestions, please hit me up!
The latest from Shirin Rajaee