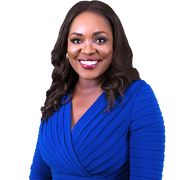 Marissa Mitchell is an Emmy-nominated and award-winning journalist.
Most recently, she worked as an anchor/reporter at our sister station, FOX 5 Atlanta. Mitchell reported during the day and co-anchored the station's "News Edge at 11" on weeknights.
Prior to that, she spent a few months solo anchoring "Good Day Atlanta" on weekends. Within her first year of anchoring in her hometown of Atlanta, Mitchell was nominated for "Best Anchor" by the Regional Southeast EMMY Chapter.
Away from the anchor desk, Mitchell covered several major events, including Hurricane Irma, Super Bowl LIII week and multiple days of protests in Atlanta and Charlotte, North Carolina following high-profile, officer-involved shootings in 2016. Mitchell also field-anchored the inauguration of Georgia Republican Governor Brian Kemp who faced a contentious race against Democrat Stacey Abrams that gained national attention.
Mitchell was also no stranger to the city's red carpet scene, most notably, chatting with some of Hollywood's biggest stars at the grand opening of Tyler Perry Studios. She has interviewed several newsmakers throughout her career from media mogul Oprah Winfrey and screen legend Clint Eastwood to actress Halle Berry and world-renowned wellness guru Deepak Chopra. Her story with celebrity tributes to the late "Queen of Soul" Aretha Franklin earned her a "Salute to Excellence Award" from the National Association of Black Journalists.
Prior to Atlanta, Mitchell worked as an anchor/reporter in Birmingham, Alabama at WBMA-TV. During her tenure at WBMA, she was part of the station's launch team for its "Focus @ 4" program. She also served as an anchor for its "Midday News." Mitchell covered city hall and often broke exclusive reports regarding government funding. She helped lead the station's coverage of the 50th Anniversary of the "Selma to Montgomery March" which was attended by Presidents Barack Obama and George W. Bush as well as the late U.S. congressman and civil rights icon John Lewis.
Mitchell's television career began in Chattanooga, Tennessee as a multimedia journalist for WTVC-TV. There, she reported breaking news, including the deadly April 27, 2011 tornado outbreak across the Southeast. Mitchell also worked as a writer for Rolling Out and Crossroads News.
She earned her master's degree in broadcast journalism from Northwestern University's Medill School of Journalism in Evanston, Illinois where she received a full-tuition scholarship from the McCormick Foundation. She was also a Knight Foundation and Carnegie Corporation News 21 Fellow. She obtained her bachelor's degree in political science and journalism from Emory University in Atlanta where she also received a full-tuition scholarship. Mitchell was one of six graduates in her class named to the school's Hall of Fame for her dedication to Emory and the surrounding community.
Mitchell is a member of Alpha Kappa Alpha Sorority Incorporated and the National Association of Black Journalists. She also mentors many budding journalists and speaks at various schools, churches and conferences. Mitchell has received numerous honors for her community involvement with youth and women. She's a sought-after motivational speaker.
Mitchell has been known for what she's done professionally. But her love for journalism didn't start in adulthood. Since the age of nine, she wanted to become a journalist. As a teenager, Mitchell co-hosted the morning announcements television show at Dunwoody High School where fellow Atlanta native and host Ryan Seacrest graduated and had the same role.
In her free time, she loves to spend time with her family,  travel, dance and go to concerts and festivals. 
Mitchell has many relatives and friends in the DMV. She's looking forward to meeting more people and making the area her home.
 
The latest from Marissa Mitchell
Our brand new show LION Lunch Hour had an incredible debut week, thanks to all our amazing talent, incredible guests and dedicated viewers!