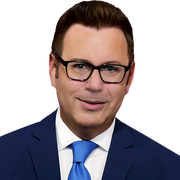 Tom Fitzgerald
Anchor/Reporter
You've got a busy life. It's my job to go out there and find out the stuff you need to know, while you're making your way in the world. We've all got passions in life and mine is simple: storytelling.
Whether it's breaking down how a semi-complicated political issue actually affects your real-lie, or just telling a really good joke in the newsroom, I try to be concise, weed out the unnecessary and not waste your time.
I get it.
As you probably guessed, I'm a TV news viewer too so I know you want me to get to the point. Along the way though, you're going to meet some interesting characters as well as hear what your own neighbors are saying.
You'll often find me at The White House or Capitol Hill, but I'm also just as likely to be in your neighborhood. The reason is simple: what happens on Pennsylvania Avenue has a real impact on the street where you live.
I'm one of those people with a nickname. "Thomas" never really fit me, "Tom" sounds a dime a dozen, so as long as I can remember I've always been "Fitz."
Sometimes people point out that I'm called "Fitz" on the air and asked if I mind that. The answer is of course not! I've always felt that's an indication of how we actually talk to each other in the newsroom.
We're real with each other off the air, so we're real with you on the air. So yes, I actually prefer it.
My family first came to Washington D.C. in 1975 when my sister enrolled here for college, and we've had a "Fitzgerald family presence" here ever since. My dad was in the Air Force, so I come from a military family.
I grew up in New Jersey near the Jersey Shore in the neighboring town to Bruce Springsteen's hometown. As a result, I was literally "sprung from cages on Highway 9," which actually ran through both our towns.
My earliest memory of being interested in broadcasting came in the second grade. We took a school trip to a local radio station. The DJ told us he'd open up the microphone in the studio and us kids could call out the name of whatever record he was going to play.
The idea of being able to reach people and tell them things over the air just fascinated me. I was hooked. As an elementary and high school student, I was always interested in current events so even at a young age I was plotting to follow a career in the news business.
I graduated from William Paterson University in Wayne, New Jersey. Since my college was not far from New York City, I was able to land internships with some of the major networks.
I joined FOX 5 back in 2003 after coming up through the ranks at TV stations in New Jersey. It was there on the morning of September 11, 2001, while anchoring the morning news, a director said into my earpiece "Fitz, a plane may have crashed into the World Trade Center, can start talking to people about this?" As you know, that morning was a defining one for all of us. In the following days, I found myself traveling to both the Pentagon and World Trade Center as the smoke still hung in the air.
These days, it's a new world and thanks to Twitter and Facebook I get the chance to not only talk "to you" but "talk with" you. If you haven't already please touch base with me at @FitzFox5DC. There's a lot of content that I'll post only on Twitter. We'll also have a few laughs. I like to think my Twitter feed is a reflection of both my sense of news, but my sense of humor.
So what captivates my interests outside of work? The first one is simple: being the best parent and husband I can be for my family. Music is a very big part of my life. Growing up at the Jersey Shore I was constantly exposed to new sounds, new bands and I still seek out new music. It keeps me in touch with the world around me.
I'm also the owner of a particular sense of humor. It's a bit skewed, a bit at an angle, but having the ability to make other people laugh in a high-pressure environment is something I'm glad I can do.
If you ask me what working at FOX 5 is like I'd tell you: it's like family. We've been through the trenches with each other. We share each other's achievements and we've got each other's backs. We laugh loud, we fiercely debate, and we all work together to bring you the best newscast we possibly can every day.
They are not only the best journalists I've ever worked with, but they're also the best people I've ever worked with. Over the years I've been fortunate to receive several Emmy Awards, but in all honestly the best recognition you can get is someone telling you they saw one of my stories and they got something out of it.
If you see me around, please say hello. I love taking to our friends about our stories and how we can do better. Each conversation pushes me a little close to that question I started off with: What do I need to find out for you today? Thanks!
The latest from Tom Fitzgerald
A biotech company in Montgomery County says it's ready to start taking its coronavirus vaccine program to a new phase earlier than they expected, as the company is still working on securing more funding and support for the program. 
A proposed property tax rate hike in Montgomery County Executive Marc Elrich's budget has been shelved after backlash from residents and council members as governments at all levels around the DMV swivel to combat the coronavirus threat.
Local lawmakers are putting pressure on the State Department to bring home hundreds of Americans who are stuck outside the country because of travel restrictions, border closings and flight cancelations.
Fox News' Allie Raffa joins Fox 5 On The Hill from the campaign trail.
Chris Detmer of The Washington Wealth Group joins Fox 5 On The Hill to discuss the economic impact of coronavirus.
Dr. Michael Wadman of the National Quarantine Unit at the University of Nebraska Medical Center joins Fox 5 On The Hill.
Rep. Don Beyer (D-VA) speaks to FOX 5 about the decision to self-quarantine after he had direct contact with a friend who tested positive for COVID-19.
Governor Larry Hogan confirmed two additional coronavirus cases in Maryland, bringing the state's total to five.
This time the On The Hill podcast is joined by Montgomery County Executive Marc Elrich.