Off-duty Pentagon officer pleads guilty to second-degree murder in controversial Takoma Park shooting
ROCKVILLE, Md. - A Pentagon police officer, who was off duty at the time when police say he shot and killed two people as they were driving away, is now pleading guilty to second-degree murder as part of a new plea deal. 
David Dixon, 42, is expected to be sentenced on the charges in November and can now face up to 30 years behind bars.
Dixon is entering the guilty plea to two counts of second-degree murder and one count of assault after a previous case resulted in a mistrial in February. All but one juror wanted to move forward with conviction at the time.
State's Attorney John McCarthy told FOX 5 that after trying the case, he believes the officer's conduct was "outrageous," casting no doubt this was a second-degree murder case.
"We don't have the death penalty in Maryland. And you're not permitted for – for relatively minor car - crimes; we don't allow you to take human life. That's a standard that we stand by. The law doesn't allow that," said McCarthy, the county's top prosecutor. "There are punishments and penalties for committing crime, not summary execution, which is what happened in this case."
New photos released on Thursday show four bullet holes in the back of a Lexus sedan. FOX 5 also heard some of the frantic 911 calls made after police said the then-off-duty Pentagon police officer shot at the Lexus.
"They chased us. We was f'in stealing tools. F'ing, f'ing tools. We never pulled no gun. We didn't run. We never was even out of the car. That man didn't know what the f' he was doing man. Okay listen … nah," is what FOX 5 is told Michael Thomas said in one portion of the call, telling the 911 operator he was afraid for his life. In another, recorded call you hear an emotional Thomas say, "Please, I'm pulling up in PG. Please help them. Please, please please."
McCarthy described the scene of Thomas rushing his friends to the hospital from the Takoma Park condominium parking lot where the shooting unfolded to Prince George's County Hospital — about 25 minutes away.
Investigators say a total of five shots were fired in the early morning of April 7, 2021. McCarthy described Dixon as first driving past the men in the back parking lot of his condo building at 7333 New Hampshire Ave. in Takoma Park. McCarthy said Dixon then turned around and blocked the car Thomas was driving head-on with his vehicle.
Without ever calling the police, McCarthy says Dixon got out of his vehicle with what appeared to be a gun drawn. He's seen on video chasing the Lexus as it reverses away. Dixon then shoots as the car moves forward, passing him, and driving off.
"We're relieved that Mr. Dixon has accepted responsibility for his actions, and now we're prayerful and will remain playful that the Montgomery County justice system will handle his sentencing justly and appropriately," said Marcus Kornegay, the attorney representing the families of the men killed.
Dominique Williams, 32, and James Johnson, 38, were both killed in the shooting.
When it first occurred, a video surfaced showing Dixon pointing a file at a homeless woman in the lobby of his building in May 2020. FOX 5 previously reported that Pentagon Police had cleared Dixon of wrongdoing in that incident and never shared it with local Takoma Park Police.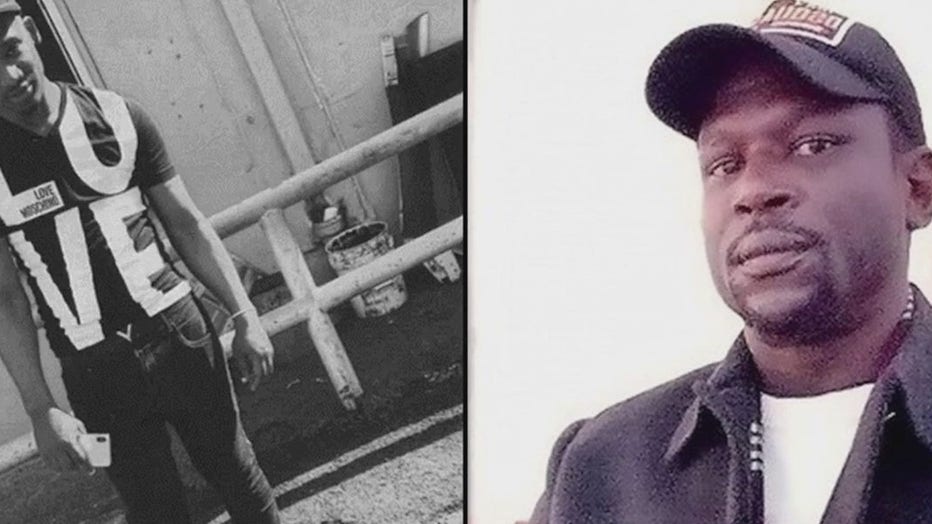 Not only was Dixon eventually charged with assault in that case, but State's Attorney John McCarthy also noted on Thursday, Dixon had essentially been warned of taking matters into his own hands after. The double fatal shooting happened almost a year later.
McCarthy did thank Pentagon and Takoma Park Police for their help in the fatal shooting investigation.
FOX 5 did not hear back from Dixon's attorneys in time for this report.
A Pentagon Force Protection Agency spokesperson told FOX 5 in an emailed statement, "The Pentagon Force Protection Agency is aware that former Pentagon Police Officer David Dixon pled guilty to the 2nd Degree murder charges from the incident at his apartment complex on April 7, 2021.  We are saddened that this tragic incident occurred, and our hearts continue to go out to the families of the victims."
Dixon's sentencing hearing is now scheduled for 9:30 a.m. on Nov. 16.