Washington Commanders 'Crazy in Love' with Beyoncé, too
WASHINGTON - Beyoncé's Renaissance World Tour is stopping in D.C. this weekend, and in case you haven't noticed, the city is bursting with energy.
Even the Washington Commanders are "Crazy in Love" with the superstar songstress.
All week, coaches and players have been sprinkling in song titles and lyrics into their answers during press conferences. 
Queen Bey is taking over FedEx Field Saturday and Sunday, so it was only right to salute her properly.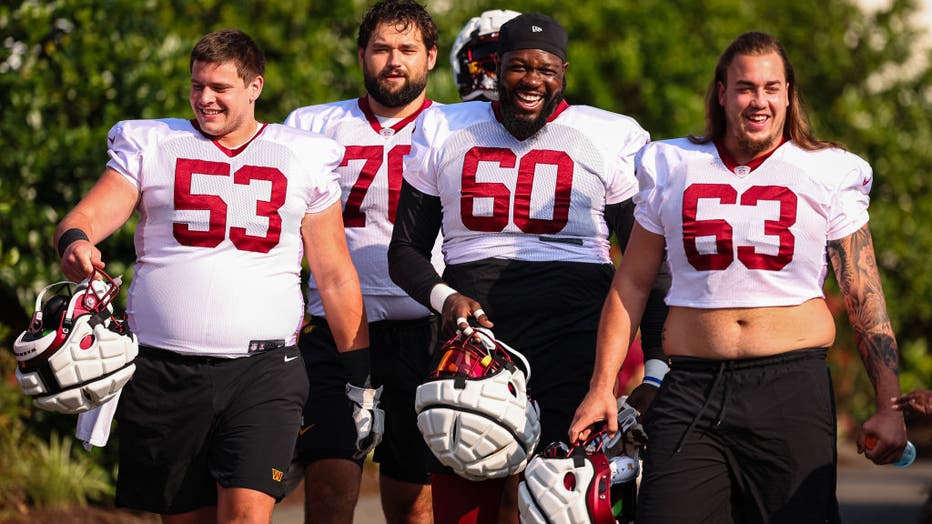 ASHBURN, VA - JULY 28: Ricky Stromberg #53, Sam Cosmi #76, Jaryd Jones-Smith #60, and Nick Gates #63 of the Washington Commanders take the field during training camp at OrthoVirginia Training Center on July 28, 2022 in Ashburn, Virginia. (Photo by Sc
Plus, it was pretty funny to hear Head Coach Ron Rivera say, "Slay the trick or you get eliminated," and "I got hot sauce in my bag. Let's roll." 
Watch the Commanders ode to Beyoncé below: