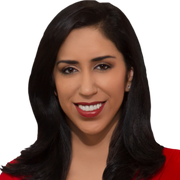 Stephanie Ramirez
Reporter
It was a high school history lesson on the Muckrakers that first peaked my interest in Journalism. It was a lesson on the power and responsibility of journalism.
 
Still, I never imagined I'd be a part of that tradition until my father encouraged me to tour Temple University's School of Journalism (I thought I was going to study architecture). More than a decade later, it is such an honor to be shining a light on issues and telling important stories for FOX 5! 
 
When people ask what drives me, I tell them it's my family's story. Both sets of my grandparents came to America from Puerto Rico to start a new life in New York. My parents worked incredibly hard to make sure my brother, sister and I would have the opportunity to attend college. We were raised to advocate for one another, whether it be my family or our greater community!
 
This career has taken me from Philadelphia (my home-town area) to New York City, Cleveland and D.C. Each place has its own heartbeat, with incredible people whose stories stick with you forever. 
 
I'll always be a Jersey girl at heart (South Jersey in the house), but I love living in Maryland. In the summer, I'm on the Bay at dog-friendly beaches. All year round, you can find me running to salsa music with my "hairy daughter," a German Shepherd named Lola! 
 
Wawas are great! I also say, "hoagies" and reject the name "steak and cheese sandwiches." It's a cheesesteak! You can win me over with pizza. Just not with Old Bay on pizza! Sorry Maryland! 
 
Got an issue you'd like us to look into? Don't hesitate to reach out!
The latest from Stephanie Ramirez
In the shadow of protests that erupted in violence over the summer, some D.C. business owners are wondering what a contentious 2020 election may bring.
On Monday, Maryland Governor Larry Hogan told FOX 5, "I don't know that it is acceptable at all," responding to reporting on a state audit recently released that confirms Maryland had been miscalculating the Homeowners' Tax Credit for years, shortchanging taxpayers millions of dollars. Montgomery County residents were shortchanged nearly $4.5 million just last year alone, according to the audit's findings.
Two Montgomery County councilmembers are planning to introduce a bill that would eliminate school resource officers from county schools.
Two sister-bills passed in both the Virginia House and Senate are drawing sharp criticism from law enforcement members, concerned the bills would stop police and sheriff deputies from being able to protect the public. Some want Governor Ralph Northam not to sign.
A couple of days after the polls opened in Fairfax County, Virginia, for early voting, residents were greeted by demonstrators – but many lawyers are concerned about a far more sinister welcome when dropping off their ballots for the 2020 election.
When asked about the issue of large teen gatherings at National Harbor, a Prince George's County Police spokesperson told FOX 5 on Friday that officers have "responded to 15-20 parties" since June and that "juveniles have confirmed that parents or older friends rent the rooms for them."
D.C.'s Health Department on Tuesday reported more than 100 new positive coronavirus cases, the largest spike it's seen since June 2 when the mayor's office says 130 new coronavirus cases were reported.
On Monday, D.C. Public Schools Chancellor Dr. Lewis Ferebee announced a three-option plan that will include elementary school students returning to some type of in-person instruction when DCPS' second term begins on November 9.