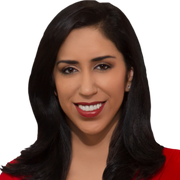 Stephanie Ramirez
Reporter
It was a high school history lesson on the Muckrakers that first peaked my interest in Journalism. It was a lesson on the power and responsibility of journalism.
 
Still, I never imagined I'd be a part of that tradition until my father encouraged me to tour Temple University's School of Journalism (I thought I was going to study architecture). More than a decade later, it is such an honor to be shining a light on issues and telling important stories for FOX 5! 
 
When people ask what drives me, I tell them it's my family's story. Both sets of my grandparents came to America from Puerto Rico to start a new life in New York. My parents worked incredibly hard to make sure my brother, sister and I would have the opportunity to attend college. We were raised to advocate for one another, whether it be my family or our greater community!
 
This career has taken me from Philadelphia (my home-town area) to New York City, Cleveland and D.C. Each place has its own heartbeat, with incredible people whose stories stick with you forever. 
 
I'll always be a Jersey girl at heart (South Jersey in the house), but I love living in Maryland. In the summer, I'm on the Bay at dog-friendly beaches. All year round, you can find me running to salsa music with my "hairy daughter," a German Shepherd named Lola! 
 
Wawas are great! I also say, "hoagies" and reject the name "steak and cheese sandwiches." It's a cheesesteak! You can win me over with pizza. Just not with Old Bay on pizza! Sorry Maryland! 
 
Got an issue you'd like us to look into? Don't hesitate to reach out!
The latest from Stephanie Ramirez
In an exclusive interview Tuesday, the descendant of Booker T. Washington and great-great-great-grandson to Frederick Douglass tells FOX 5 he believes the Emancipation Memorial, depicting President Abraham Lincoln standing over a shirtless and kneeling formerly enslaved man, should stay. 
There are concerns growing that those sharing detailed claims of sexual assault on social media are not necessarily sharing that information with authorities. On Monday, FOX 5 spoke to various officials who are stressing the importance of potential victims coming forward so that police can launch investigations in alleged criminal sexual activity.
A Dewey Beach, Delaware, restaurant owner tells FOX 5 he is closing this weekend because he "wanted to do the right thing" as COVID-19 concerns grow along the Delaware shore.
In Montgomery County, an organization that supports those with Autism and developmental disabilities is sounding an alarm, concerned any potential budget cuts County Executive Marc Elrich might approve to the Department of Health and Human Services might tank the services they provide.
Prince George's County Police are standing by the decision to allow a Friday suspect chase that took three PGPD cruisers through multiple Temple Hills backyards.
Several Prince George's County police vehicles were caught on camera chasing another vehicle through multiple backyards in the Hillcrest Heights neighborhood of Temple Hills on Friday.
Hundreds of Montgomery County residents packed into the Bethesda library parking lot and street for a large Black Lives Matter protest that was one of two demonstrations seen in the normally quiet and more affluent neighborhood.
A D.C. real estate agent is looking for another job after he was recorded launching into a racist tirade against multiple police officers.
Several Maryland business owners on the Eastern Shore say they're up against the clock, calling on Governor Larry Hogan to reopen the state as COVID-19 closures now move toward summer.