Washington Commanders announce new hog mascot, Major Tuddy
WASHINGTON - The Washington Commanders have a new mascot - Major Tuddy.
The announcement was made online Sunday during the team's game against the Cleveland Browns.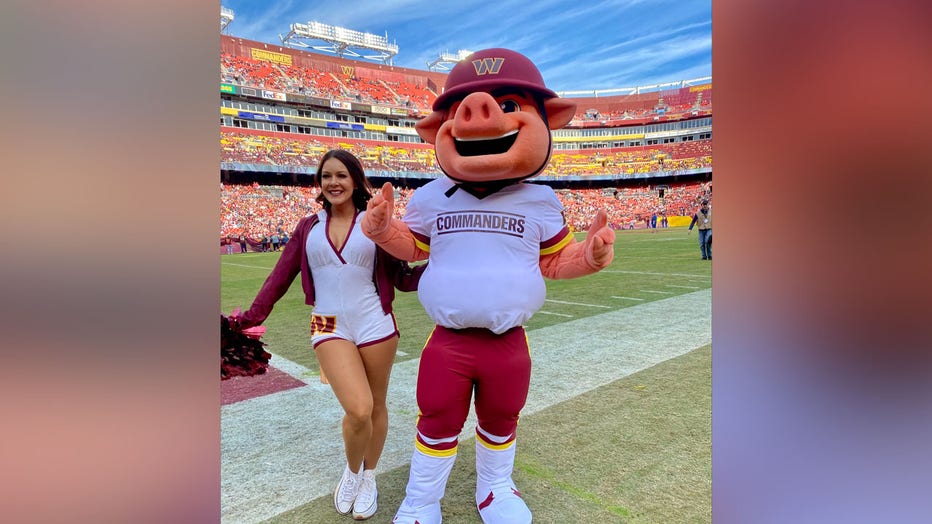 The Commanders new hog mascot is a throwback to the team's nickname for their famous offensive lines that played during the 1980s and early 1990s. 
They describe Major Tuddy as a 'muscular 6'5" 230-pound male hog' and say the military connection 'pays tribute to the National Capital Region's prominent military history and community that has long exhibited a powerful model of servant leadership.'
He wears a white Commanders shirt with double zero on the back and a burgundy military style helmet. The team says he hails from 'Upper Marlboaro, Maryland' and loves all things about the D.C. region - including go-go music and Mambo Sauce wings.
Last year the team held a contest for fans to vote online to choose their favorite mascot and name.
A spokesperson for the Commanders shared this statement with FOX 5:
Major Tuddy was born out of fan input and engagement, and we were thrilled to have so many of our youngest fans and their parents line up for a picture and a hoof bump after halftime. Tuddy was a fan-generated name that our fan ambassadors consistently rated highly. His uniform is inspired by the style of Washington's uniform during the 1980s and 1990s, when the Hogs offensive line led the franchise to three Super Bowls. We look forward to having fans engage with him at future games and community events.