Wakefield High School offers solutions to parents' security, substance abuse concerns
ARLINGTON, Va. - Tuesday night's meeting inside the auditorium of Wakefield High School was the first official gathering hosted by administrators after the recent safety events.
A number of parents say they were in attendance to support school and district leaders.
"It's easy to complain about what the administration isn't doing, but I feel strongly that the principal and his team have worked really hard to protect our students and teachers," said Angela Adams. 
Her son is a senior at the Arlington-based high school.
"Times have changed dramatically, and I feel like our children take a certain risk going to school every day," Adams adds.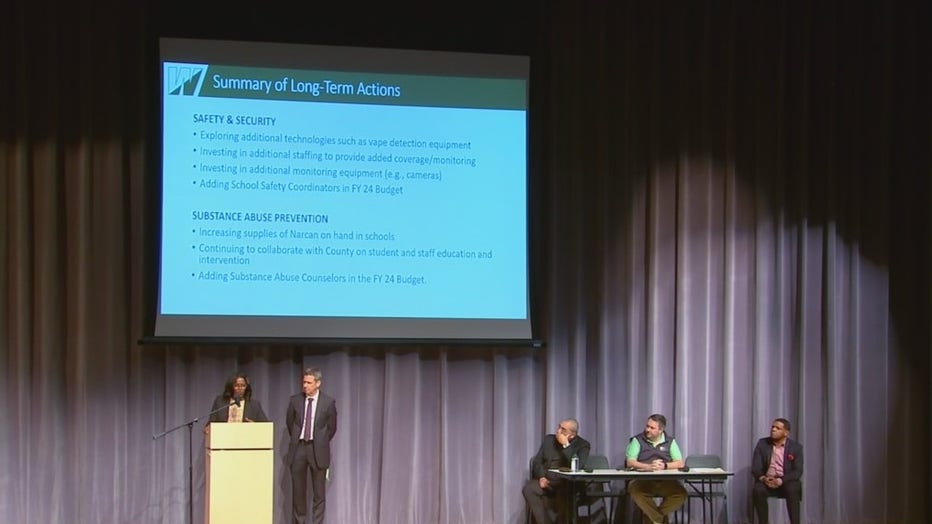 Several weeks ago, a student passed away from a drug overdose. The freshman was found unconscious in a bathroom. Police said he later died at the hospital.
RELATED: Wakefield High School cancels classes after lockdown and overdose incidents
That same week, an 18-year-old was seen trespassing at the school. Arlington County police said he was looking for a student he had a dispute with. The teen was later arrested.
Overall, parents told FOX 5 DC they are okay with how the school has handled these events, but there is more that can be done.
During the safety and security meeting, parents were given the opportunity to ask questions and express their concerns.
District leaders and school staff members came with answers – starting with immediate security improvements.
"We have increased our staffing to help us with monitoring," said school principal, Dr. Chris Willmore.
Staff will be monitoring entrances and hallways. In addition, the school reviewed camera equipment to identify and fill gaps.
When it comes to substance abuse and prevention, they are offering peer-to-peer education and training, as well as staff training on substance abuse prevention and Narcan.
One student at the meeting asked if she and her peers could step in and help.
"I'm concerned as to why we aren't considering Narcan distribution to students and providing training to students?" she inquired.
The school district is also looking at ways to detect drug use in specific areas.
"They would be like a vape detector, and it would be able to identify smoking in the bathrooms," said Chief of School Support for APS Kimberley Graves. 
RELATED: Wakefield HS parents concerned after possible student overdose
A number of parents also asked if it was possible to allow School Resource Officers back in the building.
An ACPD commander who was in the meeting says due to staffing it will be at least a year until they can even consider placing officers in schools.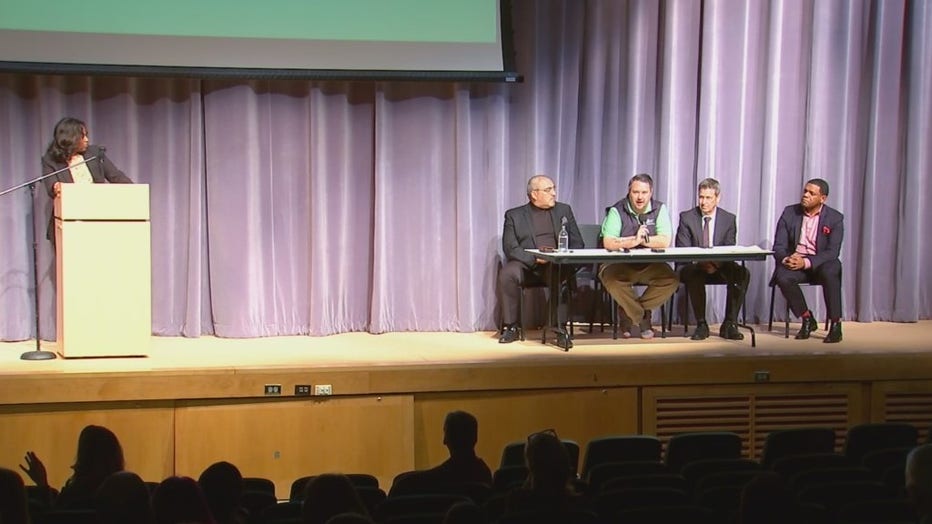 The parents FOX 5 spoke with said they left the meeting feeling heard and optimistic. Many are still asking for transparency and clear communication.
APS says they will be hosting additional safety meetings at other high schools in the district.
For more information click here.