Rock Creek Parkway crash: Victims killed in rideshare vehicle identified
WASHINGTON - The three men killed in Wednesday's deadly crash on Rock Creek Parkway in Northwest D.C. have been identified by police.
According to U.S. Park Police investigators, the three victims were Mohamed Kamara, 42, of Burtonsville, Maryland, Jonathan Cabrera Mendez, 23, of Arlington, Virginia, and Olvin Torres Velasquez, 22, also of Arlington.
Police said the vehicle was actively working as a rideshare when the crash happened. In response to the incident, Lyft provided a statement to FOX 5.
You can read the full statement below:
"This is an unspeakable tragedy and our hearts are with the victims' loved ones. We stand ready to assist law enforcement with their investigation and are working to get in touch with the victims' families to offer our support."
The crash happened around 1:40 a.m. Wednesday on the Parkway near the intersection of P Street. According to U.S. Park Police, an officer initiated a traffic stop on a Lexus SUV near the intersection of Virginia Avenue prior to the crash. Officials say a man and a woman were inside the vehicle when the officer tried to pull them over, but the driver refused to stop and fled.
Several minutes later, officials say the SUV collided with a Honda sedan. Three men inside the Honda were killed in the crash. The two adults in the Lexus suffered what were initially reported as non-life-threatening injuries, however, it was later announced that woman was in critical condition.
Police have not indicated what prompted the traffic stop. U.S. Park Police officials did confirm that officers did not pursue the Lexus.
"If a vehicle flees a traffic stop, we have policies and procedures that guide our actions," said U.S. Park Police Sgt. Thomas Twiname at the scene. "Our officers are required to abide by those policies and procedures, and in this instance, the officer determined that the vehicle that fled did not meet the criteria for a pursuit and so they did not pursue the vehicle."
FOX 5 has confirmed that the SUV involved in the crash has 44 outstanding tickets worth $12,300 with the District's Department of Motor Vehicles. According to the D.C. DMV website, 43 of the tickets are for speeding violations, and one of them is for running a red light.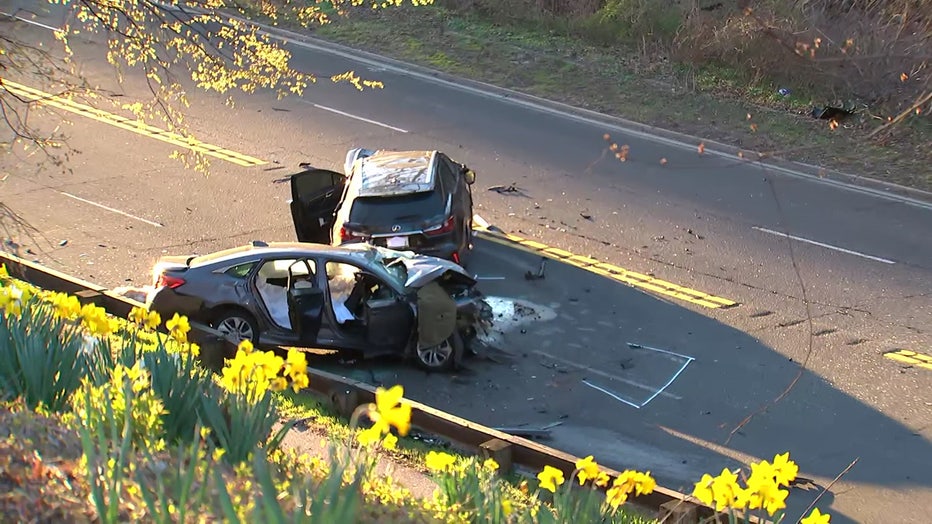 FOX 5's Melanie Alnwick says according to policy, the SUV should have booted or towed due to the number of fines. 
The cause of the crash remains under investigation.