Manassas Park police ask public for help after dog found shot
MANASSAS PARK, Va. - Authorities are investigating after a dog survived being shot three times and left to die in a wooded area in a northern Virginia neighborhood.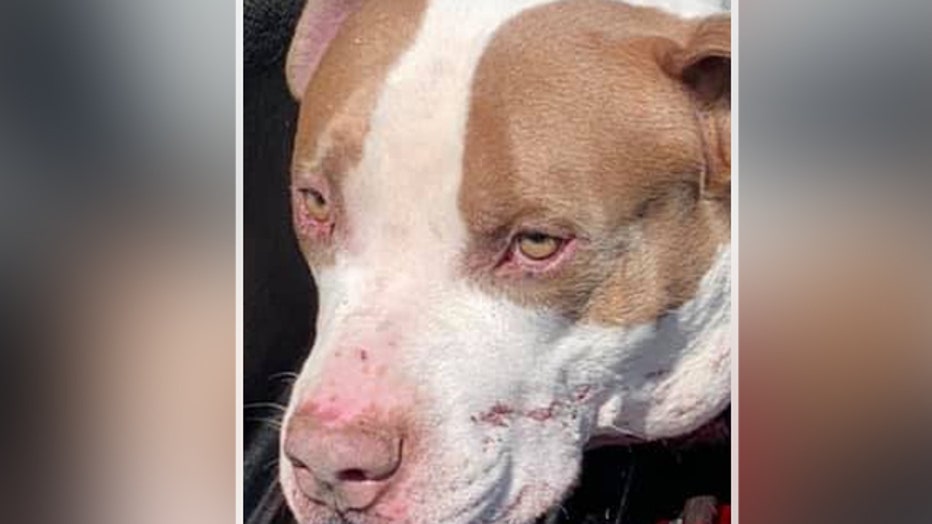 City of Manassas Park Police Department
The incident was reported around 9:30 a.m. Monday in the 9300 block of Manassas Drive in Manassas Park. Officials say the pit bull mix survived and was taken to an emergency animal hospital where it is currently recovering.
Now, police are urging the public to help them find the person responsible for this crime, handing out fliers in hopes of catching the suspect.
READ MORE: Suspect arrested in connection with murder of retired Fauquier Co. sheriff deputy's son
Officers say a witness reported hearing six gunshots prior to the dog being found. Authorities say a black SUV that was parked in the VRE parking lot drove off from the scene following the shooting.
Police say when they arrived at the scene, they found a puddle of blood and tracked the trail with the help of a department bloodhound and found the injured dog lying in heavy brush.
"He had multiple gunshot wounds to him," said Frank Winston with the Manassas Police Department, "one to his right shoulder area, one to his hind leg and there was a bullet that was ultimately removed from the dog's jaw."
READ MORE: 18-year-old charged after shooting death of two teenagers in Springfield
Police say they aren't able to obtain security footage from nearby cameras because they don't believe they were working at the time. However, they say they will be investigating the shell casings found at the scene in addition to the bullet recovered from the dog's jaw.
The dog doesn't have a collar or tags, so police say they can't identify his name or address, but they are working on putting up a reward for any information leading to an arrest.
Download the FOX 5 DC News App for Local Breaking News and Weather
Manassas Park Police are asking anyone with information to call 703-361-1136.