DC's cherry blossoms reach peak bloom
WASHINGTON - It is finally that time of the year, D.C.'s famed cherry blossoms are officially in peak bloom!
The National Mall NPS announced around on Thursday afternoon that the blooms of the Yoshino Cherry trees along the Tidal Basin in Southwest are opening up and "putting on a gorgeous show," as they have entered peak bloom.
Peak bloom is the sixth and final stage of the Yoshino Cherry trees' blooming process. The six stages are green buds, florets visible, extension of florets, peduncle elongation, puffy white blossom, and peak bloom.
SEE THE CHERRY BLOSSOMS IN PEAK BLOOM LIVE
According to data from the NPS, this is the fourth-earliest peak bloom since 2004. The earliest peak bloom since 2004 happened on March 20 in 2012 and 2020, while the latest peak bloom happened on April 10 in 2014 and 2015.
This year's forecast says had predicted peak bloom to be between March 22 - March 25. The NPS says that the trees began budding on February 23. They then reached stage two of the bloom process on March 1, stage three on March 7, stage four on March 11 and stage five on March 18.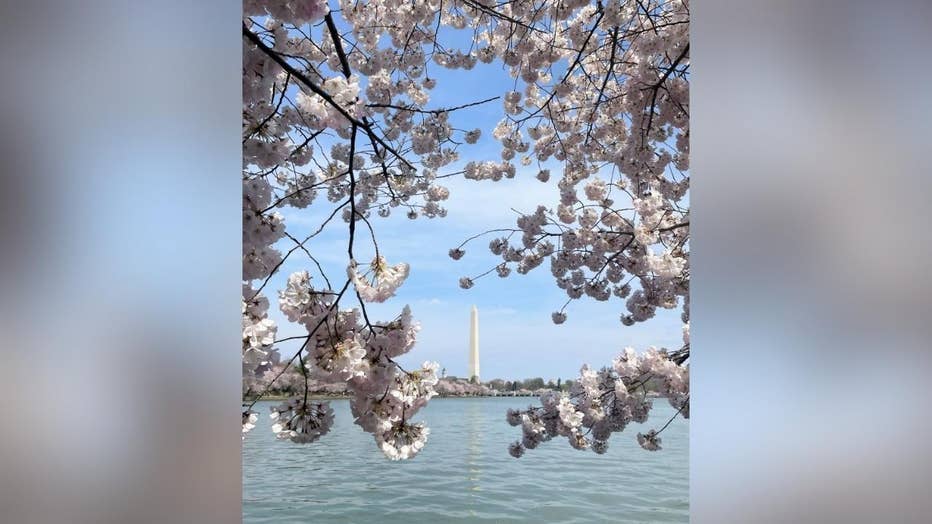 (PHOTO: National Mall NPS)
Now that peak bloom has begun, the NPS says, it can last for a period of several days depending on weather conditions. If conditions are cool and calm peak bloom can last longer, while rainy and windy weather can bring an abrupt end the bloom.