DC's cherry blossoms halfway to peak bloom as they reach stage 3: NPS
WASHINGTON - D.C.'s famous cherry blossoms are already halfway to peak bloom!
The National Park Service made the announcement online Tuesday.
"We're halfway to peak bloom! The cherry blossoms have reached florets extended, the 3rd of 6 stages," NPS posted to Twitter.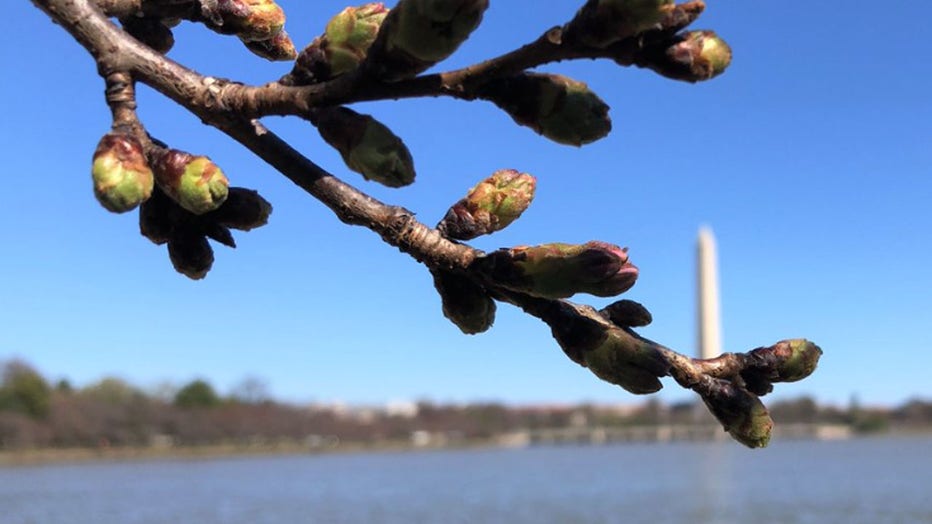 Cherry blossoms stage 3 (National Mall NPS / @NationalMallNPS)
Earlier this month NPS revealed their peak bloom date predictions for between March 22 and March 25. Before the announcement, National Park Service spokesperson Mike Litterst said that because of this year's unusually warm winter the cherry trees never reached winter dormancy – which is typically the starting point for making peak bloom predictions.
Litterst said the cherry blossom indicator tree that reliably blooms ahead of the other cherry blossoms around the Tidal Basin started to bud around February 15 - approximately 10 days earlier than it did last year.
He added that the amount of time the blossoms will stay in any given stage is dependent on the temperatures.
The peak bloom date is when 70% of the Yoshino Cherry blossoms' buds open up. In 2022, D.C.'s cherry blossoms reached peak bloom on March 21.
Peak bloom can last as long as 14 days but weather conditions can sometimes shorten this period.