DC Cherry Blossoms: 2023 peak bloom date predictions revealed
WASHINGTON - The 2023 peak bloom date predictions for D.C.'s famous cherry blossoms have been revealed!
This year's forecast says peak bloom will be between MARCH 22 - MARCH 25.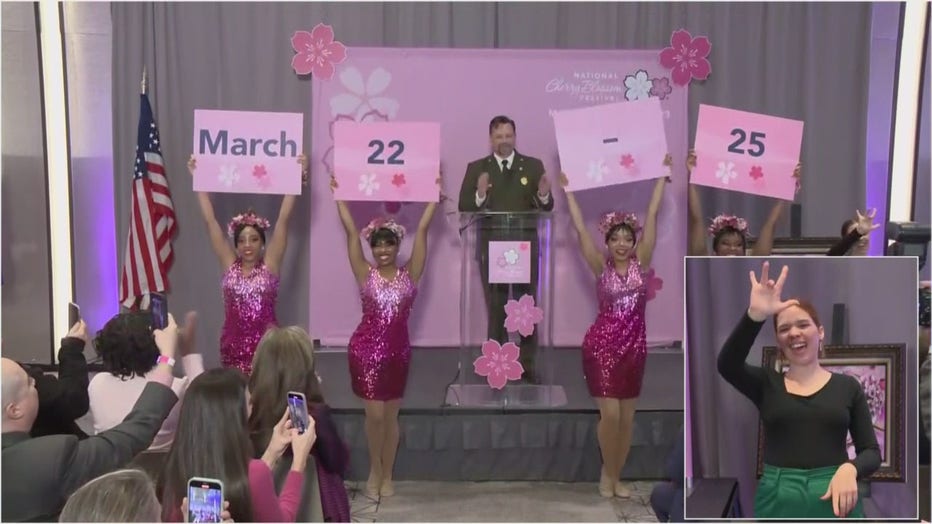 Mayor Muriel Bowser, the National Park Service, and other partners joined national Cherry Blossom Festival leaders for the announcement Wednesday. This year's festival that celebrates the cherry blossoms will be held from March 20 - April 16. 
According to the National Park Service, peak bloom typically occurs between the last week of March and the first week of April.
Unpredictable weather conditions in the past have resulted in peak blooms as early as March 15 (1990) and as late as April 18 (1958).
Each year, National Park Service horticulturists monitor bud development and report the status of the blossoms. This year, the cherry blossom indicator tree that reliably blooms ahead of the other cherry blossoms around D.C.'s Tidal Basin started to bud around February 15 - approximately 10 days earlier than it did last year.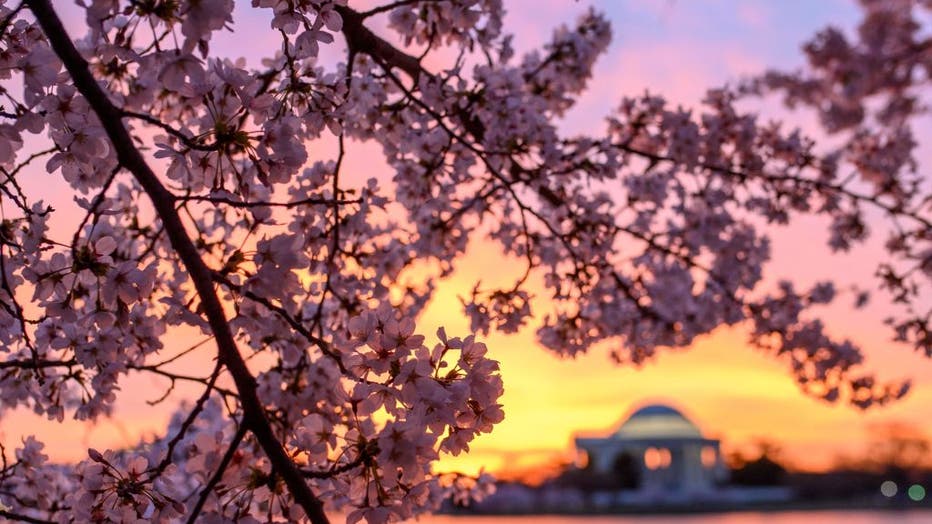 The Jefferson Memorial is framed by cherry blossoms in bloom as the sun rises, on the Tidal Basin in Washington, DC on March 23, 2022. (Photo by MANDEL NGAN / AFP) (Photo by MANDEL NGAN/AFP via Getty Images)
"We're at stage one right now," National Park Service spokesperson Mike Litterst told FOX 5 Wednesday. "And of course stage six is when we get to peak bloom"
Litterst said that because of this year's unusually warm winter the cherry trees never reached winter dormancy – which is typically the starting point for making peak bloom predictions. "From the get-go we're flying a little bit blind without having that starting point," he said.
Litterst added that the season's drastic weather changes – like last week's 80s degree-day that was followed by falling temperatures and snow – has also affected the trees. "The indicator tree is showing four separate stages depending on which branch you're looking at," he said.
He said the amount of time the blossoms will stay in any given stage is dependent on the temperatures. "We've moved from one stage to the next in as little as two days. We've lingered for 10 days to weeks between stages if it stays cool."
The agency says the peak bloom date is when 70% of the Yoshino Cherry blossoms' buds open up. In 2022, D.C.'s cherry blossoms reached peak bloom on March 21.
Peak bloom can last as long as 14 days but weather conditions can sometimes shorten this period.
The trees and their blossoms can be found all around the Tidal Basin in West Potomac Park, in East Potomac Park (Hains Point), and on the Washington Monument grounds.
Cherry blossoms are already starting to bloom in Japan, and in most cases full bloom is expected around April. Cherry blossoms are such a big deal in Japan that the country's meteorological office has a whole service dedicated to forecasting the first blooms and there are daily reports on the national news.