Commanders name Eric Bieniemy as offensive coordinator, assistant head coach
WASHINGTON - Two-time Super Bowl-winning coach Eric Bieniemy has agreed to become the Washington Commanders new offensive coordinator and assistant head coach, the team announced Saturday.
Reports indicate that the deal is expected to be for two years, but the official details of the contract have yet to be released.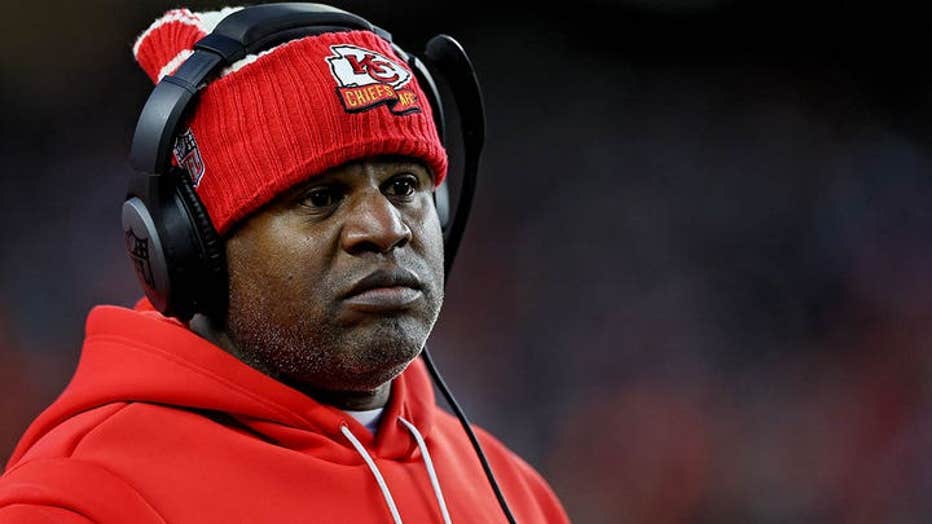 Eric Bieniemy looks on during the first half against the Cincinnati Bengals at Paycor Stadium on December 4, 2022, in Cincinnati, Ohio. (Andy Lyons/Getty Images)
Bieniemy was the offensive coordinator with the Kansas City Chiefs during the past five seasons, but he did not have play-calling duties. Instead, he largely focused on game planning and play design while head coach Andy Reid called plays during games.
In Washington, however, Bieniemy will be given full autonomy when it comes to the offensive philosophy and play calling.
Report: Commanders to be sold in March, Bezos is NFL's preferred buyer
Bieniemy replaces Scott Turner, who was fired in January after three seasons. Washington's offense during that span was mostly underwhelming and did not finish a season ranked higher than 20th in yards. Last season, the Commanders ended the year in the No. 26 spot in points.
Bieniemy, who turns 54 in August, emerged from a pool of more than a half-dozen candidates as Washington's choice for the job following the Chiefs' second championship in his five seasons as their offensive coordinator. The longtime NFL assistant has interviewed for numerous head coaching jobs, but Reid calling plays for an offense featuring a two-time MVP in Mahomes clouded Bieniemy's stock.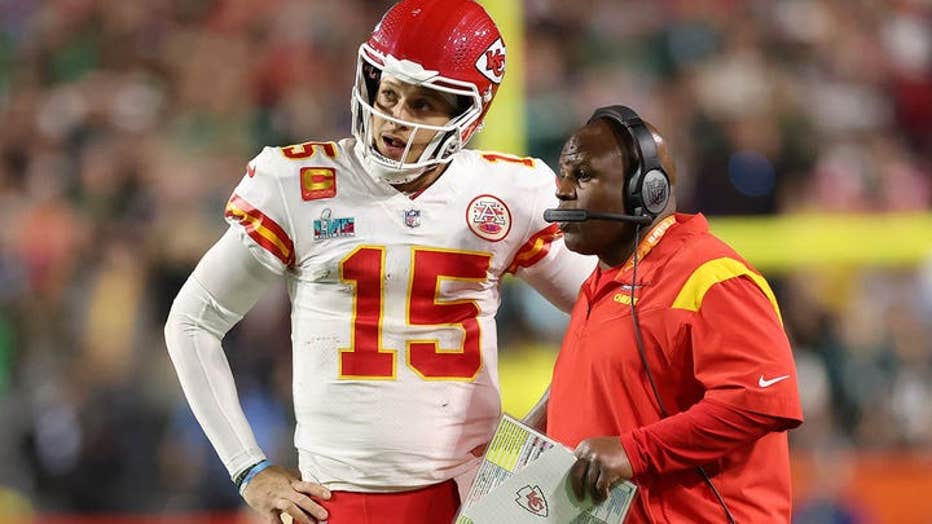 Patrick Mahomes #15, of the Kansas City Chiefs, talks with offensive coordinator Eric Bieniemy during the fourth quarter against the Philadelphia Eagles in Super Bowl LVII at State Farm Stadium on February 12, 2023, in Glendale, Arizona. (Christian P
The decisions by teams not to hire Bieniemy, who is Black, as a head coach have been an ongoing talking point for critics of the NFL's minority hiring practices.
Bieniemy inherits second-year quarterback Sam Howell, who goes into spring as the starter, and an offense that includes running backs Brian Robinson Jr. and Antonio Gibson and top receiver Terry McLaurin.
Bieniemy and Ron Rivera, who is entering his fourth season as Washington's head coach, will likely be under pressure to deliver a winning season in 2023, especially as the franchise remains in an unstable state, and embattled owner Dan Snyder explores a possible sale. In his four years in Washington, Rivera has compiled a 22-27-1 record.
READ MORE: Washington Commanders partner with Fanatics to open sportsbook at FedEx Field
A running back for nine seasons in the 1990s, Bieniemy has coached at the college and pro levels. He coached running backs with Kansas City for five years before being promoted to offensive coordinator and before that worked at the University of Colorado and for the Minnesota Vikings as a position coach.
The Associated Press contributed to this report.