Washington Commanders fire offensive coordinator Scott Turner
Washington Commanders' offensive coordinator Scott Turner has been relieved of his duties following the end of the 2022-23 season.
Washington's offense finished 20th in total offense, averaging 330.3 yards per game with 126.1 yards on the ground (12th) and 204.2 yards through the air (21st).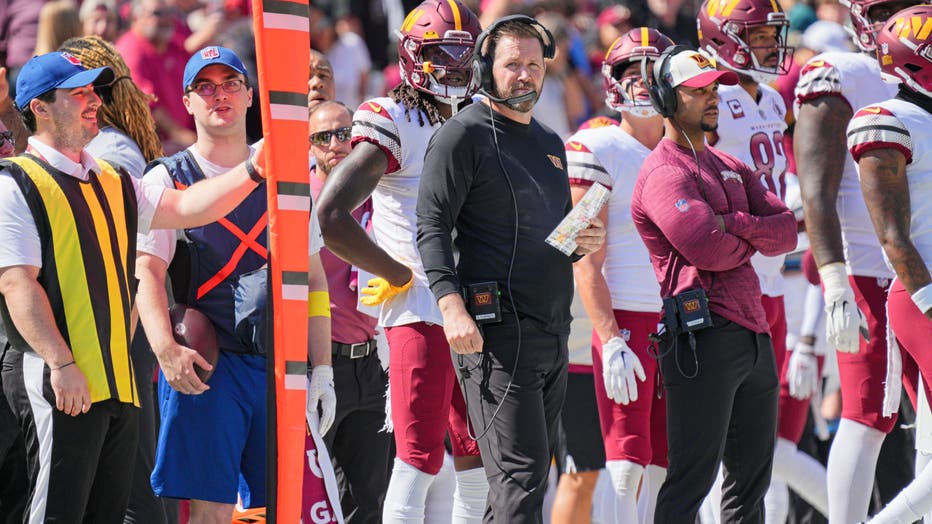 LANDOVER, MD - SEPTEMBER 25: Washington Commanders offensive coordinator Scott Turner looks on during the game between the Philadelphia Eagles and the Washington Commanders on September 25, 2022 at Fedex Field in Landover, MD. (Photo by Andy Lewis/Ic
Turner was hired by Washington when Ron Rivera became the franchise's head coach in 2020. He was the Panthers' quarterbacks coach for two seasons before getting his first opportunity to be an offensive coordinator at the professional level. Washington finished 29th in 2020 and 21st in 2021 in terms of total offense.
READ MORE: Washington Commanders rookie QB Sam Howell beats Cowboys in NFL debut
"I met with Coach Turner today and informed him that we will be moving in another direction going forward with the offensive coordinator position," Rivera said in a statement. "Unfortunately, we did not live up to the expectations and standard that I expected to see from our offensive unit. I felt it was best for a fresh start at the coordinator position heading into next year. I have a tremendous amount of respect for Scott and thanked him for his three years of service to our organization. I wish Scott and his family all the best in the future."
Rivera and general manager Martin Mayhew will begin work towards finding an offensive coordinator for the 2023 season.