Arlington County to install acoustic fencing to quiet pickleball courts at Walter Reed Community Center
ARLINGTON COUNTY, Va. - Arlington County officials have put forward a new plan to find a compromise after a series of complaints from homeowners who live near pickleball courts. 
For months, residents near the Walter Reed Community Center have expressed frustration over the noisy pickleball games, saying their quality of life has been adversely affected. 
These neighbors have long pushed county leaders to find a solution that both limits play and cuts down on noise. Now, the Parks and Recreation Department says they believe new fencing will do the trick.
They've announced a $1.5 million to install acoustic fences around the courts to both quiet and contain the constant noise that comes with the increasingly popular sport.
"Trying to find a good solution for accommodating the pickleball needs as well as balancing the effect on the neighbors has been challenging. There are a lot of strong feelings, the proximity of the neighbors makes it important to them, and the amount of play is very important to them as well," said Erik Beach with Arlington County Parks and Recreation. 
Several companies sell acoustic fencing. It's a sound-absorbing material placed on a chain link fence. Arlington still has to choose which one they'll use.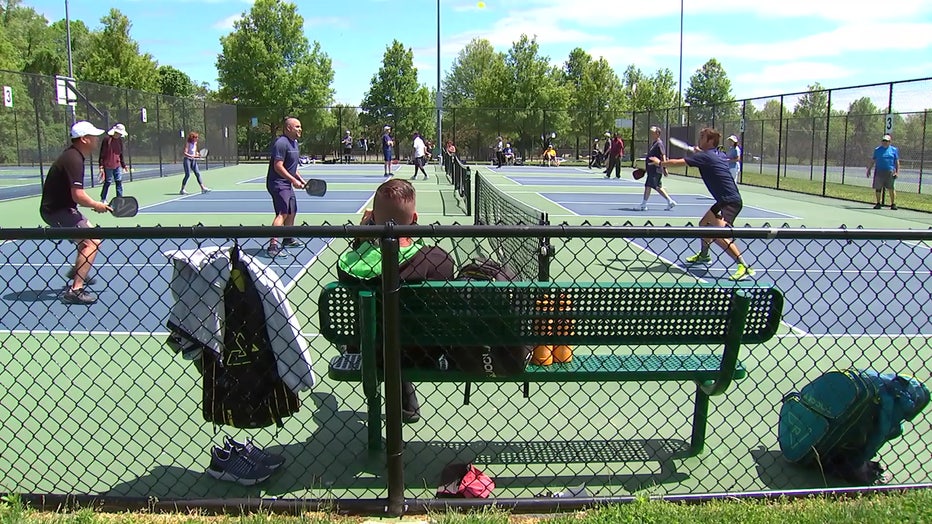 "There is the potential for the sound to travel above those of the side of the sound panels but it should significantly reduce what people are hearing," Beach said. 
But not everybody is satisfied with what's been proposed.
"I did look at the plan that they posted on the website and it looks beautiful. They're going to have six courts on the other side of the parking lot but that's actually going to decrease the number of courts here and I know that a lot of people are not happy about that," said Ruth Ellis, a U.S. pickleball ambassador.
Players are concerned there won't be enough permanent spaces for them to play because part of the renovation includes reducing the number of courts they can play on from nine to six.
"Arlington County doesn't get it," pickleball player Michael Burns told FOX 5. "What they don't get about is that pickleball, because it's a new sport, it had to be a 'drop in' sport. You've got to teach beginners how to play and that means you need multiple courts and as many as you can." 
Arlington County tells FOX 5 that they hope to have this done in a year and a half — by 2025. 
Meanwhile, Arlington Board Vice-Chair Libby Garvey has told FOX 5 she wants the county to look into converting empty retail and office space for use as indoor pickleball courts, and that's an idea that both neighbors and players appear to be interested in.