2 men steal credit cards, crash into State Trooper in jail parking lot after pursuit through Stafford County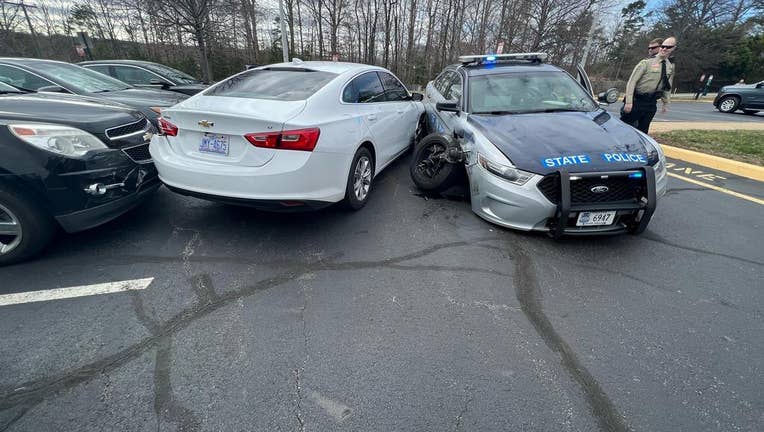 article
STAFFORD COUNTY, V.a. (FOX 5 DC) - Two men face multiple charges in Stafford County after breaking into vehicles and stealing credit cards, leading police on a pursuit and crashing into a State Trooper's car in the jail parking lot.
Fredericksburg Police were notified on Wednesday around 2 p.m. that several vehicles were broken into and multiple credit cards were stolen. 
While investigating the incident, one victim was alerted that their credit card was used at Target in Central Park. Target was able to provide a suspect vehicle description.
READ MORE: College Park mayor arrested on 56 counts of child pornography; Faces up to 360 years in prison
A Virginia State Trooper located the vehicle on Northbound I-95 and attempted to initiate a traffic stop, but the suspect driver instead led police in a pursuit that entered into Stafford County.
Deputies responded to assist in the pursuit in the area of Courthouse Road and Wyche Road. The suspect hit a State Trooper's vehicle in the Juvenile Detention Center parking lot and both the driver and passenger began fleeing on foot. The trooper was not injured during the crash.
An off-duty sergeant saw the pursuit and followed the chase. He was able to apprehend the fleeing driver with the help of the Virginia State Trooper.
READ MORE: Homeless man stabbed to death inside Petworth Library: police
Deputy S.M. Eastman, and his partner Ruby, began tracking the passenger through the woods. Ruby was able to track the fleeing suspect over a mile. The passenger was eventually apprehended near Richmond Highway. 
The driver, Jeffery Wilson, 21, was charged with six counts of credit card theft, two counts of credit card fraud, vandalism of a motor vehicle, obstruction of justice, two counts of reckless driving, hit and run and felony eluding. He was held at Rappahannock Regional Jail without bond.
The passenger, who provided a fake identity, was identified as Leskeil Richards, 27. Richards was charged with six counts of credit card theft, two counts of credit card fraud, vandalism of a motor vehicle, obstruction of justice, falsely identifying himself to law enforcement and identity theft. He was also held without bond.
READ MORE: Woman waving golf club starts 'beef' in Stafford McDonalds
During Richard's arraignment Thursday morning, he once again tried to fake his identity. Richards added two counts of forgery to his list of charges.
"Further proof that running from law enforcement in Stafford County will just make you tired, and prolong your stay at Rappahannock Regional Jail," wrote Stafford County PIO Ryan Wilbur. "Thank you to Virginia State Police and the Fredericksburg Police Department for your assistance in apprehending these two individuals."