Weather alert: Dangerous storms, isolated tornado risk Monday
WASHINGTON - A regional episode of severe thunderstorms will affect the DMV Monday afternoon. The National Weather Service Storm Prediction Center has drawn a level 3 out of 5 "enhanced" risk of severe weather around the Mid-Atlantic and noted that an isolated tornado is possible. 
It's perhaps the most classic severe weather recipe of the summer across our viewing area. It comes just over a week from last Saturday, which featured a series of microbursts and macrobursts that knocked out power to a quarter million customers and claimed at least one life in the town of Dumfries.
The FOX 5 DC weather team has been preparing for severe weather operations and will have continuous in-studio coverage and field reporting should storms become dangerous. 
Here's everything you need to know ahead of the severe weather outbreak.
Areas at risk: Entire DMV, especially northwestern zones
Timing: 2-10 p.m.; multiple rounds possible
Interstate 81 corridor: 2 to 5 p.m.
I-270 corridor: 4 to 7 p.m.
D.C. and I-95: 5 to 8 p.m.
Points east: 6 to 10 p.m.
Hazards: Damaging microburst winds of 60-75+ mph in a few storms; large hail to quarter size; at least isolated tornado risk
The tornado risk will be maximized in the northwestern part of our viewing area, closer to the track of the parent low-pressure system.
There also could be a zone of slightly greater tornado odds east of D.C. as one nears the Chesapeake Bay; greater moisture will lead to lower cloud bases (making it easier for rotation to snake to the ground), and a slightly stronger easterly component to the surface winds will help low-level helicity, or twist. That too would bolster tornado risk.
Regarding damaging wind/microburst risk, a layer of dry (dense) air at the mid-levels may mix into thunderstorm downdrafts, making them heavier. That will cause pockets of rain-cooled air to accelerate toward the ground, splattering outward and bringing strong winds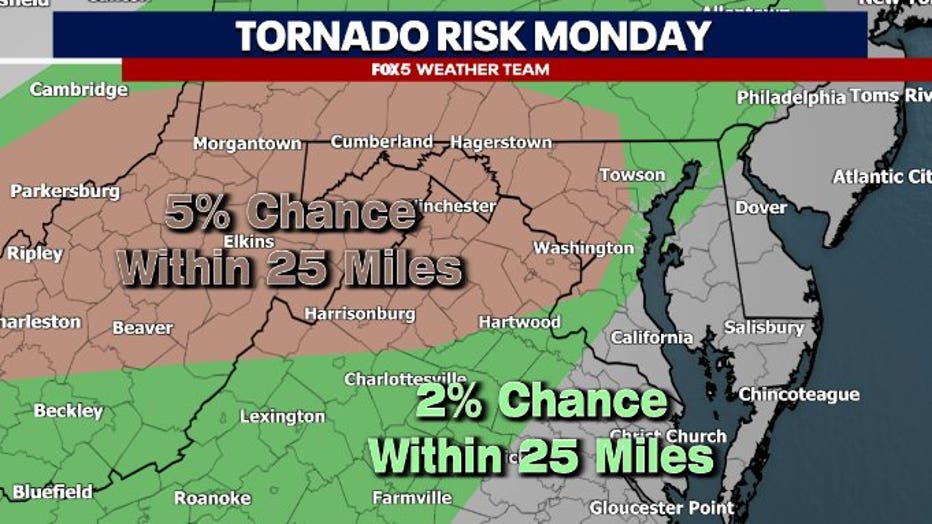 Synopsis: A potent large-scale low-pressure system, nestled in a strong jet stream dip, was located over Illinois on Sunday afternoon. Warm, humid air will be tugged north ahead of the counterclockwise-spinning low, while a cold front trails behind it. The clashing air masses will brew strong to severe thunderstorms.
The jet stream, meanwhile, will impart wind shear, or a change of wind speed and/or direction with height. That will encourage rotation within storms.
Uncertainty: Initially, we were concerned that an overnight storm complex Sunday night/Monday morning would leave cloud cover that would limit sunshine on Monday. That would reduce the severe weather risk. That does not appear likely, as it is now increasingly probable that sunshine will be present by lunchtime. That will heat the ground, further destabilizing the atmosphere and contributing excess storm fuel to juice up the atmosphere.
Storm mode is a question. In other words, what structure of thunderstorms will form? We could have a few rotating supercells, which are more isolated, discrete storms known for spinning. Alternatively, we might have a fierce squall line form. That would likely contain damaging to destructive straight line winds and isolated tornado spin-ups.
Storms will likely form ahead of the cold front along a broad, diffuse strip of low pressure known as a "prefrontal trough."
If storms train, or repeatedly move over the same areas, they could dump very heavy rainfall and cause localized flooding. This is especially true in our northern suburbs.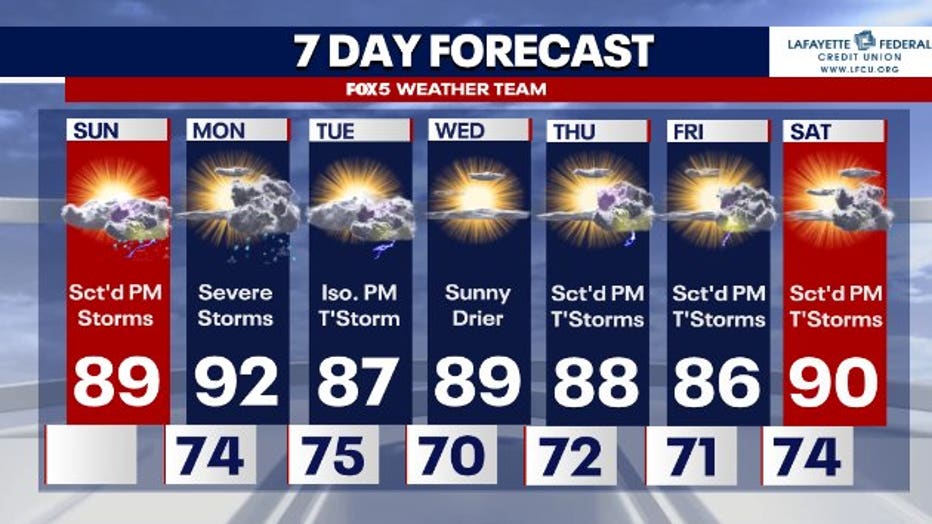 We encourage viewers to download the FOX 5 DC mobile app, follow our meteorologists on social media, and stay tuned to FOX5DC on air and online when threatening weather approaches.