Washington Commanders rookie QB Sam Howell beats Cowboys in NFL debut
LANDOVER, Md. - Sam Howell's first NFL pass became a touchdown, and Terry McLaurin promptly threw the ball into the stands in celebration.
Howell didn't care at the time and enjoyed the improbable moment. Washington Commanders staff negotiated to get it back, and he was all too happy to sign a different ball to exchange with the fan who had his little piece of history.
"I guess it was a fair trade," Howell said with a smile.
He was all smiles after beating the Dallas Cowboys — for whom he grew up rooting — in his pro debut. Howell became Washington's first rookie quarterback to throw and run for touchdowns in the same game since Robert Griffin III in 2012 and might have put himself in the mix for the starting job next season with a team again searching for stability at the most important position in football.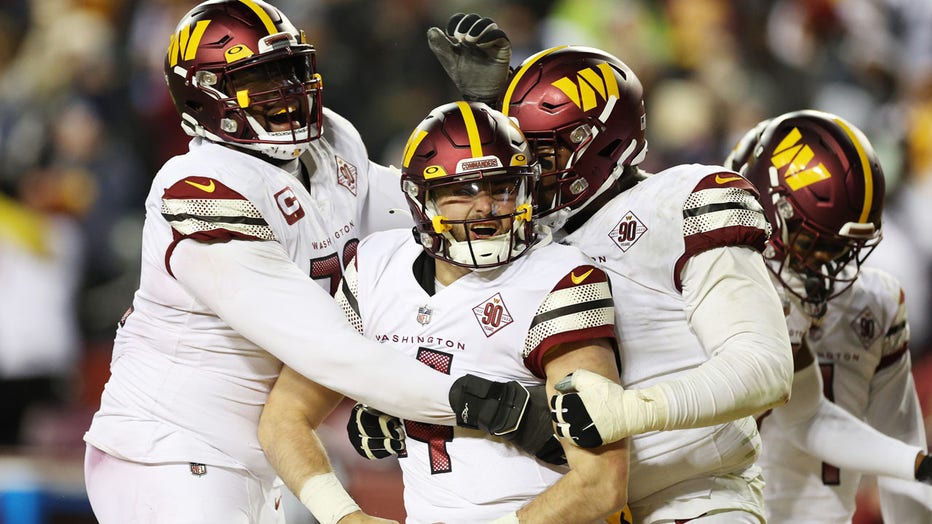 Sam Howell #14 of the Washington Commanders celebrates after scoring a touchdown in the third quarter of the game against the Dallas Cowboys at FedExField on January 08, 2023 in Landover, Maryland. (Photo by Rob Carr/Getty Images)
"I don't know what the situation will be, but whatever it is, I'll be ready for it and I'll come motivated," said Howell, who was 11 of 19 for 169 yards passing with the TD throw and an interception. "I know there's probably a lot of decisions to be made, but I'm just going to go to work and just try to become the best player I can."
Howell gave the Commanders the spark on offense coach Ron Rivera hoped Carson Wentz would provide last week against Cleveland with their playoff hopes alive. Instead, Wentz threw three interceptions, Washington lost and was eliminated from contention.
Wentz was demoted and made inactive — making his presence felt off the field by letting Howell use his stadium suite for family and friends — and Taylor Heinicke served as the backup. Howell and Heinicke could return next season to compete for the job, with potentially another QB involved.
"I'll definitely say he'll be a QB — I won't give you a number yet," Rivera said of Howell. "We'll get through the evaluation process this week."
Howell a couple of years ago was considered a candidate to be a top-10 pick in the draft, perhaps even first, before a rough final season at North Carolina tanked his stock. The Commanders picked him in the fifth round and let him spend the season practicing behind Heinicke and Wentz.
His debut was far from perfect, but a lot of that work paid off, from the touchdowns to a 52-yard completion with McLaurin.
"He was really poised," said McLaurin, who had 74 yards receiving to set a single-season career high. "It didn't really surprise me the way he's carried himself all year. He can make some throws that really make you say, 'Wow.' We know that he has the tools to be successful."
___
AP NFL: https://apnews.com/hub/nfl and https://twitter.com/AP_NFL
© 2023 The Associated Press. All rights reserved. This material may not be published, broadcast, rewritten or redistributed.