Scherzer, timely hits give Nats two-game lead in NLCS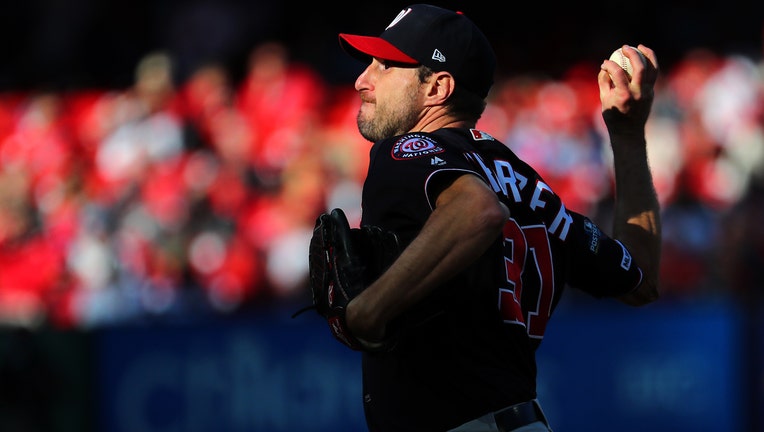 ST. LOUIS - The Washington Nationals have home-field advantage through the rest of the NLCS after taking Game 2 of the series in St. Louis.
Max Scherzer's command on the mound and timely hitting propelled the Nats to their fourth-straight playoff win.
The Nats scored first after Michael Taylor's solo home run off Adam Wainwright in the 3rd inning. Adam Eaton drove in two more runs with a double, also off Wainwright, down the first-base line in the 8th.
Scherzer returned to his hometown to strike out 11 batters in more than 6 innings of no-hit baseball. Paul Goldschmidt broke up Scherzer's no-hitter in the 7th inning, but Yadier Molina grounded into a double play to end the inning before the Cardinals could get on the board. Scherzer ended up pitching seven scoreless innings in the start. 
The Cardinals scored off reliever Sean Doolittle with two outs in the bottom of the 8th when Taylor let a line drive from Jose Martinez sail over his head in center field. Dexter Fowler popped out on the next pitch though to end what could have been a late Cardinals rally. 
The final score was Nationals 3, Cardinals 1. 
The best-of-seven series now heads to D.C., where the Nationals will host up to the next three games. Game 3 starts at 7:38 p.m. Monday. 
RELATED: Scherzer gets hometown start in NLCS Game 2 at St. Louis
RELATED: Sánchez shines as Nationals beat Cards 2-0 in NLCS opener