Howell puts Buffalo disaster behind him, shines in tying drive but can't lead Commanders past Eagles
PHILADELPHIA (AP) - Sam Howell stepped up in the pocket, made quick, decisive throws, and played with the confidence needed to throw a tying touchdown pass on the final play of regulation.
Howell couldn't lead the Commanders to an overtime upset in Philadelphia, though. The NFC champions did what they do best and made the clutch plays, including a 54-yard field goal from Jake Elliott in OT, to beat Washington 34-31 on Sunday.
It wasn't a total loss for Howell. The second-year quarterback shed last week's disaster — when he was picked four times and sacked nine times in a 37-3 loss at Buffalo — to flash a glimpse of why the Commanders believe so strongly in the North Carolina product.
He was 29 of 41 for 290 yards. No interceptions.
"We have a lot of confidence in him," coach Ron Rivera said. "And he's paying us back."
The 23-year-old Howell sprung to life on the final drive of regulation. The Eagles went ahead 31-24 on Jalen Hurts' 28-yard touchdown pass to A.J. Brown and 2-point conversion.
Howell countered with perhaps the best 90 seconds of his season.
Brown was flagged for taunting, which gave Washington the ball on the Eagles' 36-yard line. Howell hit Byron Pringle for 15 yards on third down, and completions for 8 and 11 yards took the Commanders to the 10.
Howell hit Jahan Dotson as time expired, one last chance, one thrilling score.
"I love my matchup with Jahan and he made a good play," Howell said.
The TD actually pulled the Commanders to 31-30. Rivera had earned the "Riverboat Ron" nickname when he coached in Carolina for his love of risk-taking and going for it on fourth downs.
With a potential win in sight, the Commanders skipped the 2-point conversion try and instead sent the game into OT on the kick. Rivera said the offense was exhausted.
"They were gassed, they really were," Rivera said.
Howell had already gone 6 of 7 in the fourth on the drive that helped the tie game at 24-all on Brian Robinson Jr.'s 15-yard touchdown run. With the game on the line, he took the Commanders 64 yards on 10 plays — the final eight came with Rivera all out of timeouts.
Howell, Washington's seventh different season-opening starter in as many years, met the challenge of coming through in crunch time in front of one of the more raucous atmospheres in the NFL.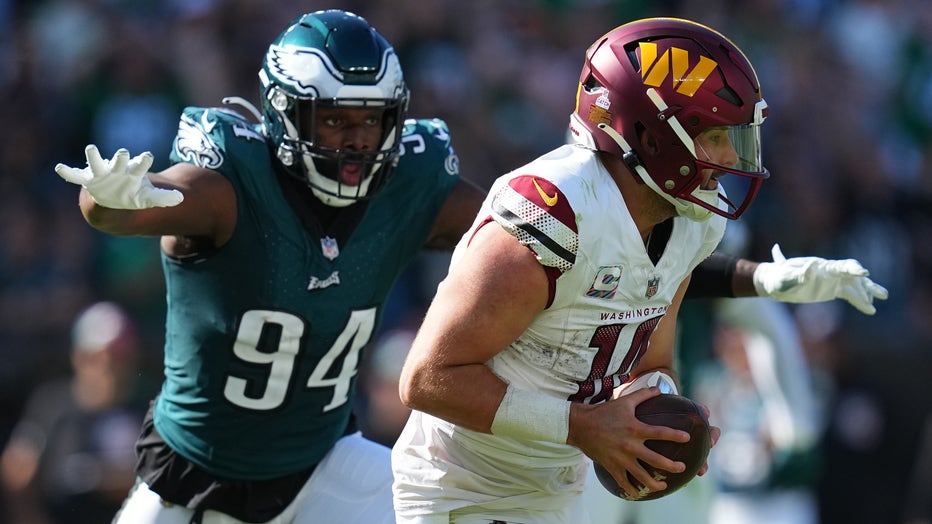 PHILADELPHIA, PENNSYLVANIA - OCTOBER 1: Sam Howell #14 of the Washington Commanders scrambles from Josh Sweat #94 of the Philadelphia Eagles at Lincoln Financial Field on October 1, 2023 in Philadelphia, Pennsylvania. (Photo by Mitchell Leff/Getty Im
"We showed people we're right there," Howell said. "We've got to get over the hump."
The Commanders played spoiler a year ago when an upset at the Linc crushed the Eagles' 8-0 start. They seemed poised to bust-up an undefeated season again with a 17-7 lead in the first half.
Washington lost its best chance to go ahead in OT by about a toe. Howell hit Terry McLaurin on the sideline for what could have been a sensational catch. Only the wideout's second foot just fell out of bounds, and the Commanders were forced to punt.
McLaurin had two of his best performances of the season in 2022 against the Eagles, combining for 14 catches and 230 yards. The sixth-year pro had only caught 13 passes for 126 yards and a TD this season.
He found his groove in Philly and had 10 catches for 86 yards. He even recovered Robinson's fumble in the end zone in the second quarter for a 14-7 lead.
"We played a really good team out there," Rivera said. "We had a chance. Let's start winning."
They'll have to do it on a short week when they head home Thursday night to host the Chicago Bears.
"It's not a good feeling to know you had the game in your hands and let it slip away," Robinson said. "We proved we can compete against high-caliber teams."