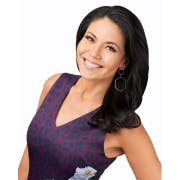 Angie Goff has been reporting the news from the nation's capital for more than a decade. From the caucuses in Iowa to the hurricanes in South Carolina and the Royal Wedding across the pond, she's covered it all.
Angie has anchored breaking stories for network and local broadcasts including the Charleston church massacre, Pope Francis' U.S. visit and the Congressional baseball shooting in Alexandria.
A self-proclaimed "people person," Angie loves meeting new friends in the community and staying in touch with them through her social channels. She is the creator and host of "The Oh My Goff Show," a fun quirky podcast that airs weekly on Youtube and Apple Podcasts.
Before joining FOX5, Angie was an anchor at NBC Washington where she also contributed to TODAY and filled in as a host for Early TODAY and MSNBC.
The George Mason graduate got her start working at Entertainment Tonight in LA. From there she pursued a news career, making stops in Iowa and South Carolina before returning to Washington.
As an ARMY brat, Angie grew up living between the U.S. and South Korea but now calls Northern Virginia home. She lives in McLean with her husband and children.
The latest from Angie Goff