The Snyders clear out of the Washington Commanders facility, possibly signaling imminent sale: report
WASHINGTON - The sale of the Washington Commanders is believed to be imminent after owners Dan and Tanya Snyder have cleared out of the team's facility, according to a new report.
ProFootballTalk reports that the Snyders left in December of last year. PFT says multiple sources say a sale could be approved and announced as soon as upcoming league meetings take place in April.
Since the Snyders' announced they hired Bank of America Securities to look into selling part or all of the team last year, a list of potential buyers have been linked to the sale - including, Amazon founder Jeff Bezos, Philadelphia 76ers and New Jersey Devils owner Josh Harris and Houston Rockets owner Tilman Fertitta.
In 2022, the franchise rebranded as the Commanders after dropping its old name in July 2020 following decades of complaints that it was racist toward Native Americans.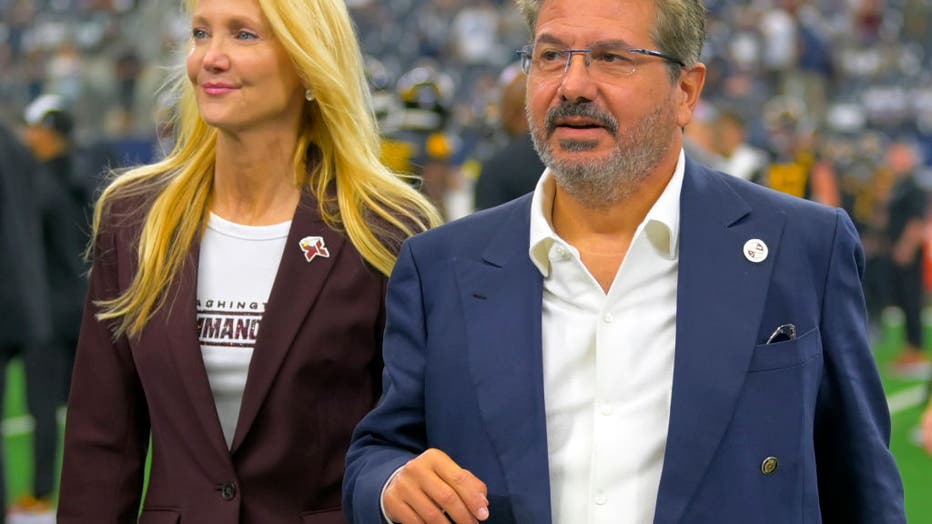 ARLINGTON, TX - OCTOBER 2: Washington Commanders owners Tanya Snyder, left, and Dan Snyder on the field before the Dallas Cowboys defeat of the Washington Commanders 25-10 at AT&T Stadium on October 2, 2022 in Arlington, TX. (Photo by John Mc
In July 2021, the NFL fined the team $10 million and owner Dan Snyder ceded daily operations to his wife Tanya after an investigation unearthed a "toxic" workplace culture. No written report was issued, leading the U.S. House Oversight Committee to investigate. Commissioner Roger Goodell testified before the committee at a public hearing last June, and Snyder gave a deposition for more than 10 hours in July.
PFT says at least 24 owners must approve any sale for it to be finalized.
Here is a timeline documenting many of the key challenges that the Snyders' and Commanders have faced over the past two decades.