Virginia Military Institute's superintendent resigns amid reports of racism at college
LEXINGTON, Va. (FOX 5 DC) - Virginia Military Institute's superintendent has resigned after reports of racism and a probe from the governor's office.
The board of visitors who oversee the Virginia Military Institute continues to insist the prestigious school does not have a race problem.
This despite a state investigation into claims that systemic racism is rampant at the country's oldest state-run military college and this morning's abrupt resignation of VMI's superintendent.
By all accounts, the resignation of retired General J.H. Binford Peay III is a shock to students, staff, and faculty. He had served in that role for nearly two decades. VMI says it was accepted the general's resignation with "deep regret."
More than half of VMI's student body is from D.C., Maryland, and Virginia.
VMI is 77 percent white and 23 percent non-white. Of that 23 percent, 7 percent of the student body population is Black.
Download the FOX 5 DC News App for Local Breaking News and Weather
"I can't speak to the specific experience of the people making the accusations but in terms of the institute itself, I never experienced something like that," said Pierre Ngankeu, a 2003 VMI graduate.
Ngankeu goes on to say some of the closest friends he has in his life, he met at VMI. His experience supports the school's assertion that the accusations of system racism were isolated incidents and not widespread.
Even so, Peay's resignation comes amid several African American cadets describing relentless racism at the military college.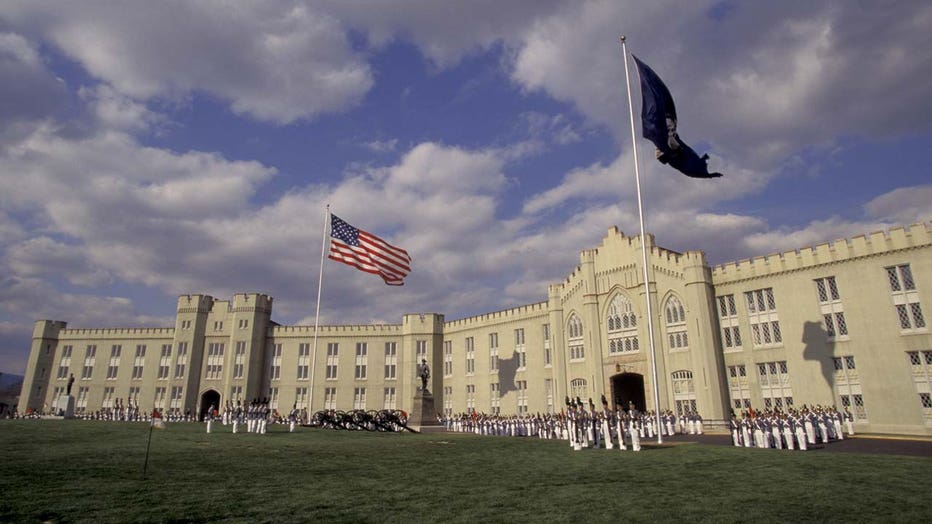 Virginia, Lexington, Virginia Military Institute. (Photo by Education Images/Universal Images Group via Getty Images)
Virginia Governor Ralph Northam's chief of staff reportedly said the governor had lost confidence in Peay's leadership amid the scandal.
Northam has ordered an independent review of the school's culture.
VMI insists systemic racism does not exist at the institution and gave a glowing review of General Peay's tenure.
"There is no systemic racism here and we're confident that a review by the Governor's office will find that," said Col. Bill Wyatt, Director is Communications and Marketing at Virginia Military Institute.
FOX 5's Tisha Lewis reports the Board of Visitors says it will immediately turn its attention to the search for a new superintendent. 
Meanwhile, 16-year VMI veteran Brigadier General Robert Moreschi, will serve as acting superintendent.