Video: Man claims he was nearly hit by dozens of motorcyclists illegally riding through National Mall
WASHINGTON - A witness shared video with FOX 5 saying he and his 3-year-old son were nearly run over when dozens of motorcycles and at least one illegal dirt bike rode up onto the National Mall, riding toward the memorial on July 13.
While bicycles and scooters constantly buzzing around can sometimes be a danger, the video was something different. A U.S. Park Police officer tells FOX 5 what was seen in the video is illegal.
Looking up the weight of a certain Yamaha sport motorcycle vs. a Yamaha dirt bike, the motorcycle is at least 300 lbs heavier and these were the bikes moving through pedestrians by the Washington Monument last week.
"I absolutely would not have been trying to bike through there. So yeah, I think if one of these idiots had swiped a little closer, I'm mean they're traveling with, you know, heavy vehicles with traffic. So I think absolutely, it's a safety risk," said Nathan Kron, the man who says he was nearly run over with his child. 
"People didn't come for that. They came out there to enjoy the peace also hey don't want to hear the bikes and stuff out there. I don't know why did that," said another man, reacting to the video.
What's interesting is while that man did not approve of what happened by the Washington Monument, he also admitted to riding through the District with his family. He was not talking about riding motorcycles but the ATVs and dirt bikes that are illegal to ride through the city, even though it is legal to have one at your home.
The illegal ATV and dirt bike riding issue is a serious and separate issue that has been seen before both on National Mall grounds by the Washington Monument and throughout the city.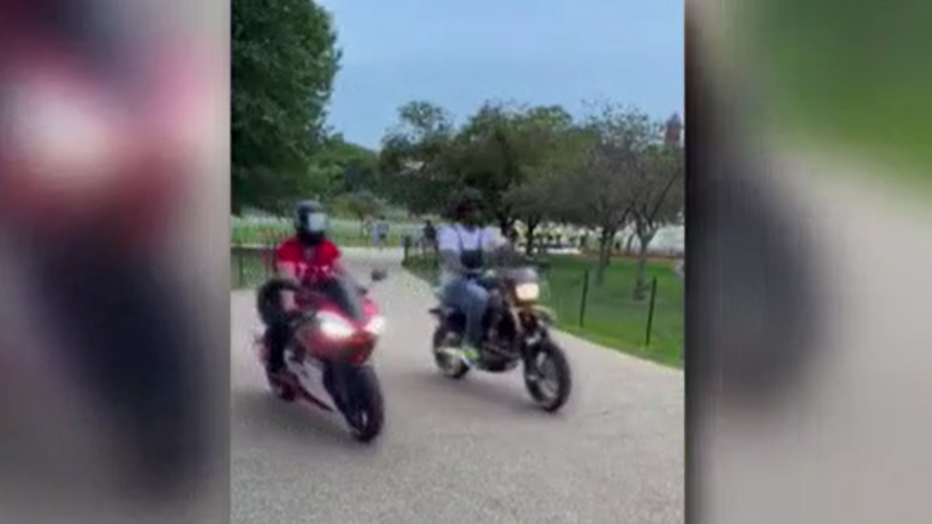 FOX 5 is not sharing the man's name since he granted the interview.
"I do because like, it's a way to just get out the house, have some fun, enjoy life," the man told FOX 5. "I don't think it's dangerous. These people running up to you and killing people at the Metro station, that's dangerous. Walking, just being alive in D.C. is dangerous."
"I mean I'm all for D.C. culture and people enjoying themselves but, you know, we're a city of hundreds of thousands of people and you know there are certain behaviors that are absolutely illegal and that are harmful and after having almost run over by someone enjoying themselves — I don't think that's part of the social contract," said Kron, speaking to the illegal riding he's seen in other areas like H St. and U St.
The man who claims he rides in D.C. told FOX 5 he would like to see the city provide a space for ATVs and dirt bikes to be ridden legally.
Council member Brianne Nadeau's office says they've seen improvements with illegal riding on U St. where the Nightlife Task Force places roadblocks. FOX 5 is told she's requested the Deputy Mayor give an update one year on the task force one year later.
FOX 5 also learned with it comes to D.C.'s city streets, updates to the D.C. Police chase policy still wouldn't allow officers to chase these illegal riders. MPD spokesperson Paris Lewbel tells FOX 5 that MPD policy still prohibits vehicle pursuits for traffic violations.
U.S. Park Police are asking anyone with information on the Thursday video to contact them.