Protest breaks out at American University following noose, bananas incident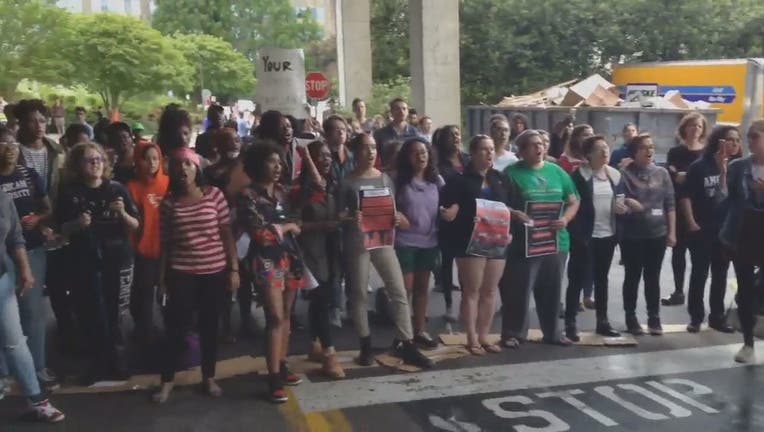 WASHINGTON - Demonstrators held a protest on the campus of American University Friday following a hate crime incident targeting a historically black sorority and the first black female student body president earlier in the week.
Video posted on social media show the protesters at one point sitting on the ground with their arms raised at the Bender Tunnel, the main underpass adjacent to the parking garage at Bender Arena. The protesters disrupted traffic and prevented vehicles from entering and leaving the area.
Students are demanding the university to examine its policies and training in order to prevent future hate crimes from happening.
On Monday, bananas with string in the shape of nooses were found hanging on trees and lampposts at several locations around campus. The bananas had messages of "Harambe bait" and "AKA," referring to the Alpha Kappa Alpha sorority.
University police are investigating the incident. They have released surveillance video of a person of interest sought in what has been classified as a hate crime. The FBI is also assisting in the investigation.
Related Coverage:
Racist displays at American University targets Alpha Kappa Alpha sorority members
Surveillance video released of suspect in American University hate crime displays
American University: White supremacist threatened student government president in post
AU student leaders, school officials work to unify following hate crime incident
Black members of Congress demand probe of bananas, nooses at American University
Upset American University students march out of meeting on campus hate crime incident
Racially charged incidents at American University investigated after banana thrown at black student