Michael Oher, profiled in 'The Blind Side,' says inspirational movie was based on lie
MEMPHIS - Super Bowl champion and retired NFL player Michael Oher, whose inspirational story was profiled in "The Blind Side," said the movie's premise was based on a lie, according to court documents. 
Oher, 37, filed a petition in Shelby County, Tennessee, to end his conservatorship being held by Sean and Leigh Anne Tuohy, who were portrayed as his adoptive parents in the movie. The couple was granted conservatorship in 2004. 
Oher is also seeking damages from the misuse of his likeness, name and image.  
Who is Michael Oher?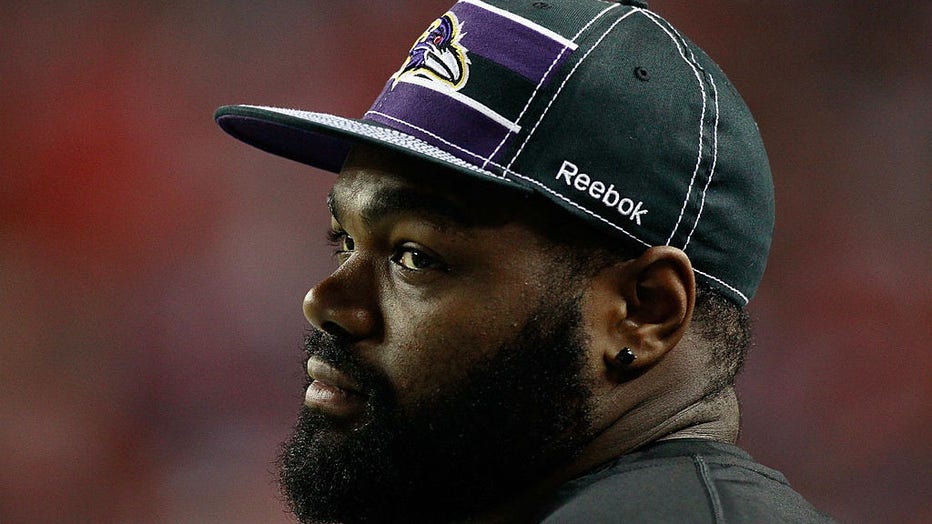 Michael Oher. (Photo by Kevin C. Cox/Getty Images)
"The Blind Side" profiled Oher's story, depicting him as an inner-city teenager who was adopted by a white family. The movie chronicled how Oher ended up playing for the NFL. 
The movie was nominated for Best Picture and Sandra Bullock was awarded Best Actress.
In court documents obtained by FOX Television Stations, Oher said he grew up in the housing projects in Memphis as one of 12 children. He was placed into foster care but got lost in the system and ended up living on the streets. 
Court documents said Oher was described as a "smart child." Troy Henderson, a father of Oher's friend, came across Oher's story and was able to get him into a prestigious school and into the school's sports program. 
While homeless and living sporadically with friends, Oher excelled in sports and was known for his physical capabilities. 
RELATED: Damar Hamlin receives warm welcome from Bills fans at training camp
He then crossed paths with the Tuohys. Court documents said while many people noticed Oher's potential, the couple saw "a gullible young man whose athletic talent could be exploited for their own benefit."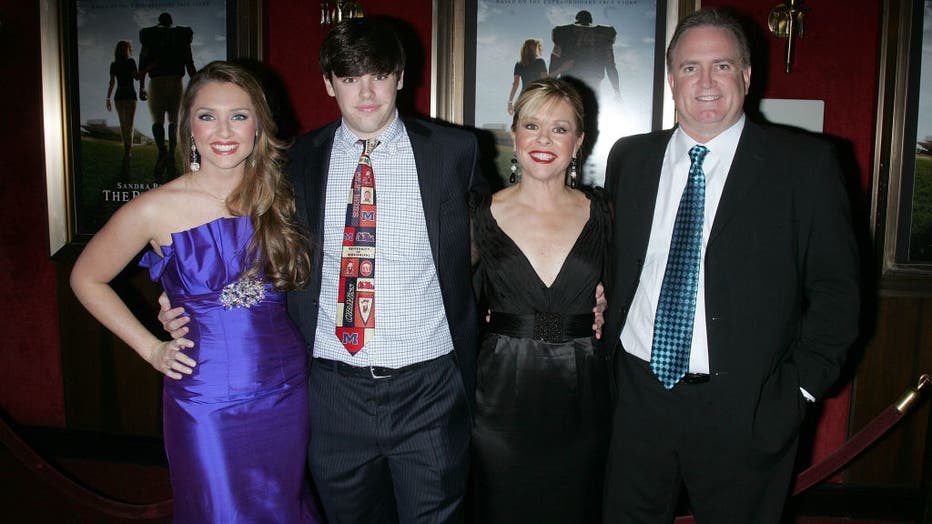 The family the film is based on Collins Tuohy, Sean Tuohy Jr. Leigh Anne Tuohy and Sean Tuohy attend "The Blind Side" premiere at the Ziegfeld Theatre on November 17, 2009 in New York City. (Photo by Jim Spellman/WireImage)
Oher then moved in with the Tuohys but court documents alleged that the couple said they loved him and wanted to adopt him, but took no legal, formal action to follow through with the adoption process. 
Instead, Oher claimed he was tricked into signing conservatorship papers which he thought was adoption papers. It allowed the Tuohys to have complete control to enter any contract negotiations on behalf of Oher, even though he was 18 years old. 
RELATED: Johnny Manziel says he attempted suicide after Browns cut him in 2016: reports
Oher said he didn't know that the couple had tricked him until February 2023.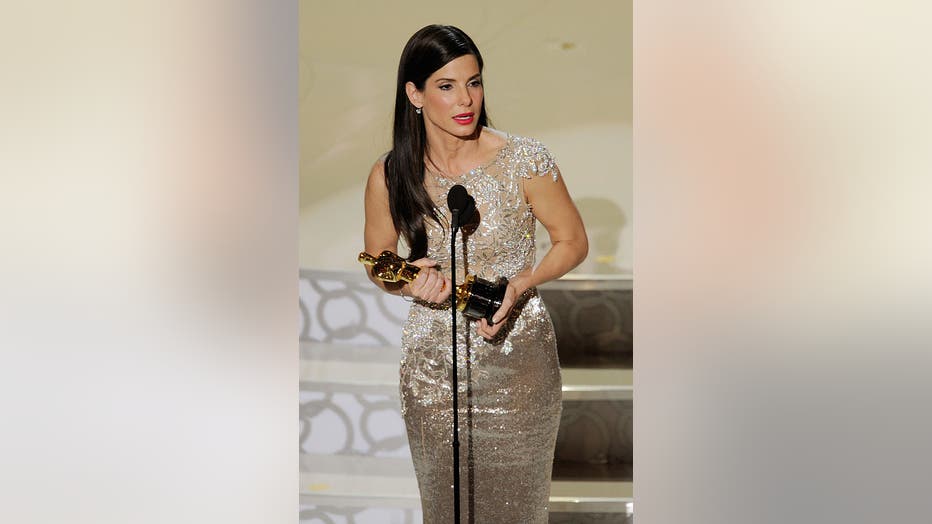 Actress Sandra Bullock accepts Best Actress award for "The Blind Side" onstage during the 82nd Annual Academy Awards held at Kodak Theatre on March 7, 2010 in Hollywood, California. (Photo by Kevin Winter/Getty Images)
Oher claimed the couple continued to push the false narrative that they adopted him, which led to a book and the movie, "The Blind Side." The film grossed more than $300 million. 
Oher claimed the Tuohys received money from the movie. The couple and their biological children received $225,000, plus 2.5% of the film's "defined net proceeds." Oher claimed he didn't receive any money.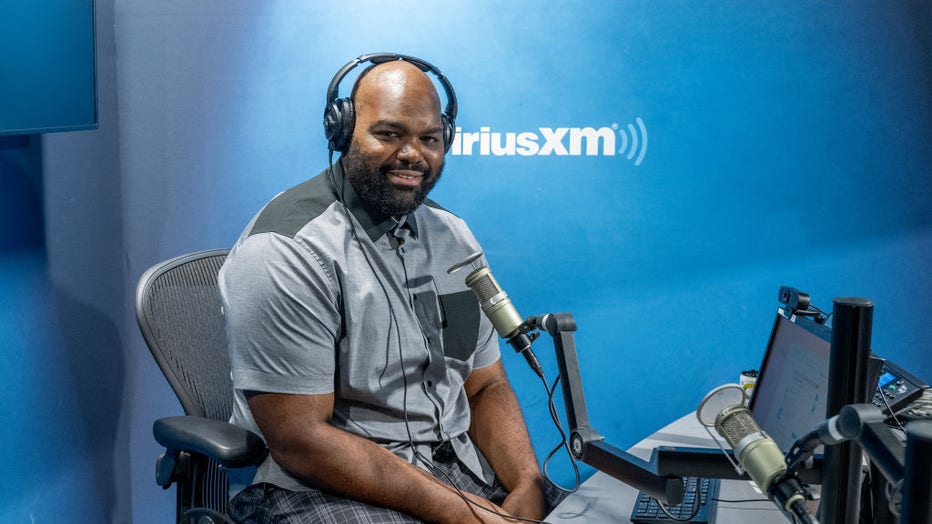 NEW YORK, NEW YORK - AUGUST 09: Michael Oher visits SiriusXM at SiriusXM Studios on August 09, 2023 in New York City. (Photo by Roy Rochlin/Getty Images)
According to ESPN, the Tuohys denied making that much money from the movie. They said they received a flat fee and it was shared, according to the outlet. 
"Since at least August of 2004, Conservators have allowed Michael, specifically, and the public, generally, to believe that Conservators adopted Michael and have used that untruth to gain financial advantages for themselves and the foundations which they own or which they exercise control," the petition said "All monies made in said manner should in all conscience and equity be disgorged and paid over to the said ward, Michael Oher."
RELATED: Sandra Bullock's longtime partner Bryan Randall dead at 57 after battle with ALS
Oher started 110 career games and won a Super Bowl with the Ravens. He also finished second in the voting to Percy Harvin of Minnesota for The Associated Press NFL Offensive Rookie of the Year after starting all 16 games his first season at right tackle.
Steve Farese, a lawyer for the Tuohys, told The Associated Press that they will file an answer to the allegations in court but he declined to comment further. He was among three attorneys served on behalf of the Tuohys on Monday.
The Associated Press also said Leigh Anne Tuohy did not immediately respond to an email sent to her personal website.
RELATED: Sauce Gardner fulfills promise to his mother of becoming a college graduate
The Associated Press contributed to this report. This story was reported from Los Angeles.