Gaithersburg couple arrested in connection with multiple armed robberies
Montgomery County Police have arrested and charged a Gaithersburg couple with multiple counts of armed robbery, first degree assault and more.
Download the FOX 5 DC News App for Local Breaking News and Weather
Rickley J. Senning, 32, of Gaithersburg was charged with multiple counts of armed robbery, first-degree assault and felony use of a firearm.
Taken into custody with Senning was Jesann L. Willis, 35, of Gaithersburg. Willis has outstanding warrants out of Virginia and Florida.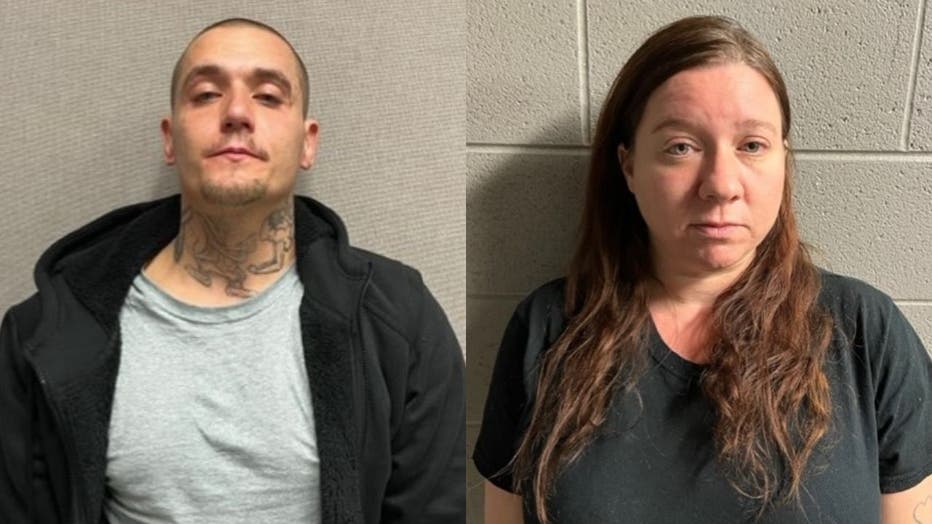 Rickley J. Senning, 32, of Gaithersburg and Jesann L. Willis, 35, of Gaithersburg (PHOTOS: Montgomery County Police)
A 7-11 on Derwood Circle in Derwood and an Essex Bank in the 1100 block of Nelson St. in Rockville were both robbed on Oct. 12. During both robberies, the suspect brandished a revolver.
READ MORE: Montgomery County residents claim checks were stolen from USPS mailboxes
During a traffic stop on Oct. 30, Senning was accused of assaulting a Rockville City Police Officer and was found to be in possession of a loaded revolver.
FOX 5 is learning Senning did not exactly assault the officer. A department source said police were originally called for a welfare check after someone claiming the suspect's girlfriend, Willis, was being kidnapped and held against her will by her boyfriend.
In a press release posted to RPD's Facebook page, police say Willis' employer had called for help.
FOX 5 was told when officers stopped the couple's vehicle, Senning was told to step out, but instead grabbed a black bag and fled. That's when FOX 5 was told a struggle over that bag ensued. Police say a fully loaded revolver was located inside the bag.
The next day, Montgomery County Court Information shows Senning was given a $5,500 bond and was released after posting $550 cash or 10%. Officials confirmed Senning was granted bond by a Montgomery County Commissioner. 
FOX 5 reached out for comment and was told in an emailed response from Maryland Judiciary Public Information Officer, Bradley Tanner, "… Maryland Judiciary employees as well as judicial officers, such as commissioners, cannot provide comment on pending cases or decisions." 
Montgomery County Police detectives responded to the traffic stop and connected Senning to the robberies in Rockville and Derwood. An arrest warrant for Senning was obtained on Nov. 8 for the armed robbery of the 7-11 and Essex Bank.
While out on bond, Senning is alleged to have committed the armed robbery of a PNC Bank, located in the 10100 block of River Road in Potomac.
READ MORE: 'Fake violin player' scam warning issued by Montgomery County Police; hustle reported nationwide
The suspect was seen leaving in a stolen white Honda CRV with Florida tags, taken from a residence in Flagler Beach, Florida.
Senning and Willis were arrested in D.C. in the stolen Honda CRV with Florida tags. He was in possession of a handgun at the time of his arrest.
The couple were arrested on Thursday, Dec. 2 and are believed to be involved in several commercial armed robberies, spanning at least six states from October through December of this year.
SUBSCRIBE TO FOX 5 DC ON YOUTUBE
Senning has a hearing slated for next week. He's facing illegal gun possession charges in the District first. A court spokesperson says Willis will have a hearing on Thursday if she's not picked up on Wednesday for an open warrant in Florida.