Escaped murder suspect Christopher Haynes has prior conviction for assaulting police officers
The wanted murder suspect who escaped from police custody at George Washington Hospital last week has a history of assaulting police officers. 
Back in September 2020, Christopher Haynes was accused of attacking three Prince William County police officers. Police said he reversed his vehicle, struck a police department bicycle, and almost hit an officer. Haynes then drove at two other officers from the bike team, but a police report states they were able to move out of the way of the vehicle before he hit their bikes and fled the area. Responding officers later found Haynes inside his vehicle and attempted a traffic stop. But Haynes ditched the vehicle and ran away on foot. 
He was arrested a week later on Sept. 21, 2020, in Manassas. 
Prince William County Commonwealth's Attorney Amy Ashworth confirmed with FOX 5 that Haynes pleaded guilty in January 2022 to three counts of attempted malicious wounding on law enforcement officers and one count of reckless driving.
He was sentenced to two years in prison with all but seven months suspended. Ashworth said the 30-year-old was also placed on probation for two years as part of the plea. 
Haynes was arrested Wednesday, Sept. 6, in connection to a deadly double shooting that took place the morning of Aug. 12 in the 1500 block of Kenilworth Avenue in Northeast D.C. 
Police said 33-year-old Brent Hayward was killed, and the remaining victim was taken to a local hospital for treatment of life-threatening injuries.
After an investigation, police identified Haynes as a suspect and secured warrants for his arrest. He was taken into custody in Manassas and was on his way to the Metropolitan Police Department to be processed when he complained about pain in his ankle. 
Police took Haynes to George Washington Hospital around 2:30 p.m. last Wednesday, and about an hour later, he made his escape.
Acting D.C. Police Chief Pamela Smith said two officers were with Haynes inside the hospital's emergency department when he escaped. Smith indicated officers were in the process of handcuffing Haynes to the bed when he assaulted one of the officers and ran. 
"Typically what happens is when the officers transport a suspect or arrestee to the hospital, we typically take the handcuffs off," Smith said. "The arrestee is handcuffed to the gurney or the bed which he may be sitting on and as he was taking one of the handcuffs off of anyone's arms, the suspect got up and aggressively moved away from the officer and fled the scene." 
Both officers chased after Haynes but were unable to catch him. It's a mistake Smith says won't happen again, and MPD has opened an internal investigation into the incident.
The escape prompted a significant police response and put the campus on lockdown, which was lifted Wednesday night. 
Police say the last confirmed sighting was of him running away from the hospital. They haven't released anything publicly about where they think he may be but did indicate he had connections to Stafford, Prince William, and Fauquier counties.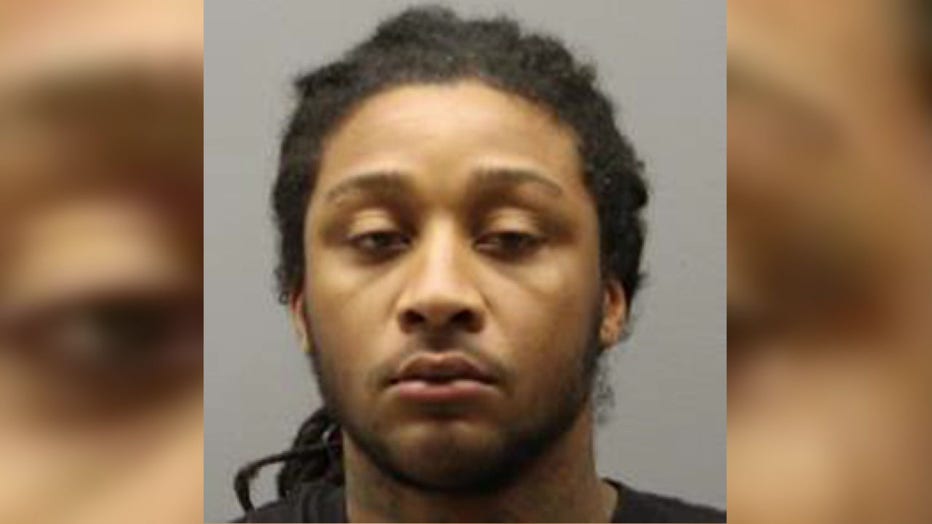 Christopher Haynes, 30, Photo via D.C. police
"I think anytime you have a fugitive who is wanted for murder, there's some concern like I stated, he's not armed. We do believe him to be dangerous because he did commit murder, which is why we're asking the public for assistance. If they see him please let us know," Smith said. 
Haynes is described as a 30-year-old Black male, 6'0, 205 lbs with a medium brown complexion. He has black hair and brown eyes with shoulder-length dreadlocks and a Washington Nationals tattoo on his neck. He was last seen wearing a black shirt, gray shorts, and white socks with black handcuffs hanging from his right wrist.
A $30,000 reward is being offered for any information that leads to his arrest.
This is a developing story. Check back with FOX 5 for updates.