DC police make 2nd arrest in killing of 11-year-old Davon McNeal
WASHINGTON (FOX 5 DC) - On Friday, D.C. Police announced the second arrest in the murder of 11-year-old Davon McNeal after a July 4th community "peace" cookout had ended in Southeast last Saturday.
Police say 22-year-old Christian Wingfield of Maryland is also charged with 1st Degree Murder while Armed (premeditated).
Wingfield is also the suspect Chief Peter Newsham identified Thursday, as the convicted felon who was released back into the community by a D.C. Superior Court judge before the 11-year-old was shot and killed.
READ MORE: DC police charge 1, issue warrants for arrests in killing of 11-year-old Davon McNeal
FOX 5's Evan Lambert learned on Thursday, Wingfield's attorney successfully argued the 22-year-old's pretrial release in May, partly because of the COVID19 pandemic.
Wingfield was one of at least four suspects identified Thursday by the Police Chief Peter Newsham and Mayor Muriel Bowser. Officials on Thursday also announced the first arrest in the case, 18-year-old Daryle Bond of Southeast.
Bond was arraigned in a virtual hearing held on Friday, where a judge ordered the 18-year-old to be held behind bars. He has a next hearing scheduled on August 19.
"Just don't mess with the children, the elderly and our women. And look, these guys, they've got to go to jail. I just don't know what more to say. They need to go there. Not come back. We don't need no more deals. Don't give them any deals. They need to stay in there, and-and rot," said 11-year-old Davon McNeal's grandfather, John Ayala, on Friday.
New court documents were released during the time of Daryle Bond's arraignment, outlining the evidence police collected against the four suspects named.
Shots rang out near the 1400 block of Cedar Street, SE on Saturday at around 9 p.m., after the mother of the slain 11-year-old had ended a "peace" event organized for the community, an event meant to encourage community members to end gun violence in the neighborhood.
Family and authorities say McNeal was caught in the gunfire as he went to retrieve a phone charger after helping his mom put-on the event.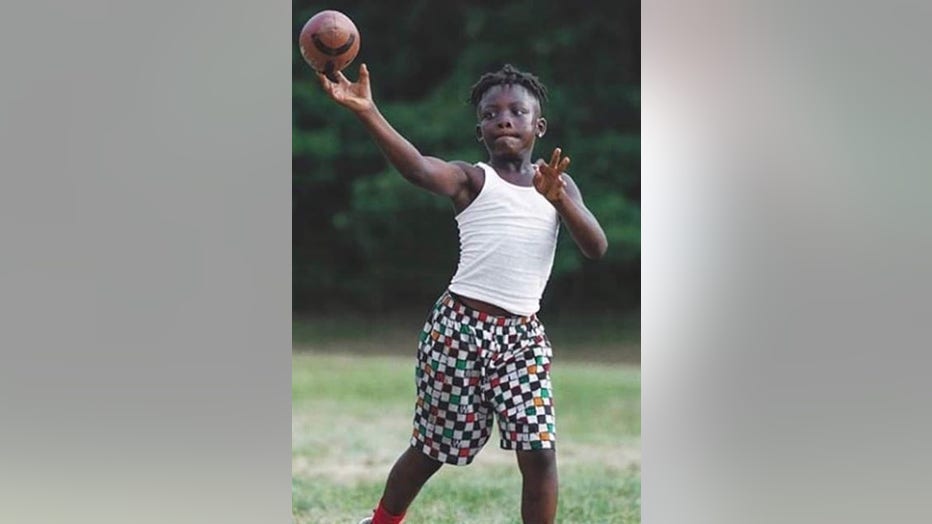 Davon McNeal was shot and killed Saturday night in Southeast DC. His grandfather says he was watching fireworks (Courtesy of John Ayala)
Download the FOX 5 DC News App for Local Breaking News and Weather
Investigators initially discovered at least 15 shell casings from what the Bureau of Alcohol, Tobacco, Firearms and Explosives (ATF), found to be five firearms represented at the scene. This is according to the ATF's National Integrated Ballistic Information Network (NIBIN), according to court documents.
Investigators pieced their investigation together by talking with multiple witnesses, viewing Instagram and YouTube images and surveillance footage captured at the Frederick Douglass Garden Apartments where the fatal shooting occurred.
Witnesses had described hearing fireworks mixed in with the sound of gunshots.  
One witness described as "W-6" was seen in Body Warn Camera distraught and replied "no" when an officer asked, "did you see who it was, like a car or anything?" according to court documents, which later say when interviewing with homicide detectives, the same witnesses reported seeing the 11-year-old walk toward 1425 Cedar St SE when they "observed guys from a neighboring rival crew, 'Choppa City,' come down the alley that runs between the 1400 block of Bangor Street and the 1400 block of Cedar Street and begin shooting."
According to that same witness, five suspects from Cedar Guards were seen shooting toward the same alley before running up toward the top of the Frederick Douglass Garden Apartments in response.
Court documents also note the neighborhood groups "Choppa City" and "YOG" (Young original Gangsters" have been "beefing." Investigators say this violence has resulted in multiple shootings and homicides. Investigators also noted NIBIN leads that potentially connect ballistic evidence found at the Cedar St., SE shooting to other incidents in the area, from May 2019 to June 2020.  
It's still unclear what the suspects were shooting at when shots were fired according to the court documents.
Police gathered images from an "Insta Story" on the social media platform, "Instagram" and surveillance images from the Frederick Douglass Garden apartments, to place at least one suspect at that July 4th "peace" event hosted by 11-year-old Davon McNeal's mother.
Court documents also say a GPS monitoring device worn by  22-year-old Wingfield placed him in the area of Cedar St. SE before, during and after the fatal shooting. Wingfield was released in May, after his attorney cited concerns over the COVID19 pandemic, FOX 5 learned.
Looking online, FOX 5 found Wingfield has faced previous charges related to the unlawful possession of a firearm. In 2017, it appears Wingfield was ordered released under a High Intensity Monitoring program, which was monitored by the Court Services and Offender Supervision Agency (CSOSA).
Officials would not comment, telling FOX 5 this case is still pending.
READ MORE: COVID-19 concerns prompted release of suspect in DC 11-year-old homicide, court records say
Winfield's docket shows more than one entry of "non-compliance" related to the home monitoring order. "('CSOSA') informed the court that Defendant failed to comply with the conditions of release imposed by the court," read a court document, ordering Wingfield to appear on March 18, 2020 to argue why his condition of release should not be revoked.
About a month later, Wingfield was arrested, again on illegal firearms-related charges. Court documents in this arrest say Wingfield was a rear passenger in a car that had been stopped by police near the Intersection of 23rd Street and Savannah St., SE for going in the wrong direction. Officers said they discovered a firearm on Wingfield when he was searched. This time around, Wingfield was held behind bars, according to the court docket.
The court document that outlines this arrest also connected Wingfield an incident where shots were reported fired near 1441 Cedar St. SE on April 6, 2020. Investigators said Wingfield seen on video discharging a firearm near the Frederick Douglass Gardens Apartments while on probation. Investigators also say they checked with CSOSA and received a report noting Wingfield: "was as close as 13ft from the incident location at 1326 hrs, 2 minutes after the ShotSpotter notification…"
In May, Wingfield's attorney filed to revisit his release. On May 20th, the court instructed the Office of the Attorney General to release his medical records to Defense Counsel. Wingfield was ordered released into a High Intensity Surveillance Program under the Pretrial Services Agency as he awaited trial two days later.
When asked Friday if his attorney the arguing for his release due to the COVID 19 pandemic was the right thing to do, Attorney Evan Parke told FOX 5 in a statement:
"The entire region (and possibly the entire nation) is mourning the death of Davon McNeal. I still remember where I was at, and what I was doing, when I found out about his death. He was an innocent boy with a bright future, a bit younger than my own son, and my wife and I discussed his death, and grieved his death, when we found out about it. Everyone wants justice to occur and for the wheels of justice to quickly turn. There are incredible pressures on police to make quick arrests in high profile matters, and rightly so. With that, however, comes the risk of injustice. I have seen some of the greatest injustices in high profile matters. My representation of Curt Lovelace (a former prosecutor falsely accused of murder, a case that was featured on Dateline NBC) and Ryan Newman, a black youth accused of a crime spree in 2006 on the National Mall (a case riddled with improprieties and law enforcement coercion) showed me that firsthand.  In both cases, government officials rushed to judgement, tried to fit the facts into prewritten narratives and my clients suffered great harm, and continue to suffer harm, from law enforcement officials who acted in haste and improperly. We all want justice here. Communities and families deserve that. So do defendants, who are presumed innocent until proven guilty. I hope that whatever happens here, we have fair processes. Everyone deserves that. And, again, I think that's what everyone wants."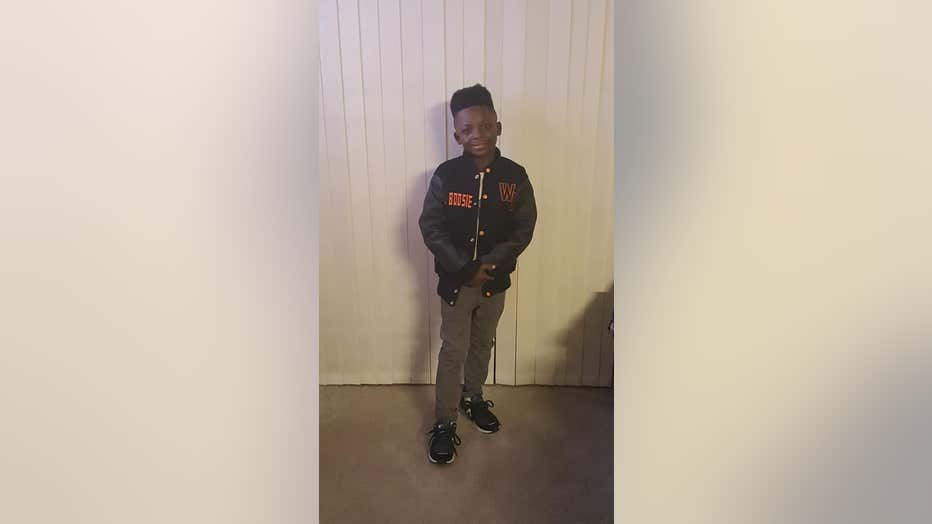 Davon McNeal was shot and killed Saturday night while watching fireworks in Southeast D.C. (Courtesy of John Ayala)
McNeal's grandfather called it ridiculous that people like Wingfield are being released due to the pandemic – from D.C. to New York City.
"We have to put more pressure on the judges because these guys, if they are violent criminals dealing with firearms, these guys should not be released. The only ones, if they're going to release somebody, they have to be non-violent offenders," said John Ayala.
Police say at least two suspects are still at large: 19-year-old Carlo General and 25-year-old Marcel Gordon, both of Southeast.
All four suspects identified are facing one charge of First Degree Murder while Armed (Premediated).
Police may also release the name of a fifth suspect wanted in this case.