Commanders Training Camp: Josh Harris attends first practice, players say energy is high
WASHINGTON - Football season is fast approaching and the Washington Commanders have hit the field for training camp amid new energy and excitement over the team's new ownership. 
Wednesday marked another milestone of the Josh Harris era for the Washington Commanders: the team's first practice.
Harris was on hand to see the team's first practice today. Head Coach Ron Rivera said Harris would meet with the players this afternoon — his first time meeting the players as a group.
"He wanted to come in and we talked about the best opportunity would be the first practice with the whole team and he will speak with them later today as well during one of our team meetings," Rivera said. "So it will be a good opportunity for them to hear from him — specifically, what his vision is and what the standard will be and what the expectations are." 
Now that the deal is done, Head Coach Ron Rivera says he's right there with the fans, "fired up" and looking forward to a season where the focus is on the field.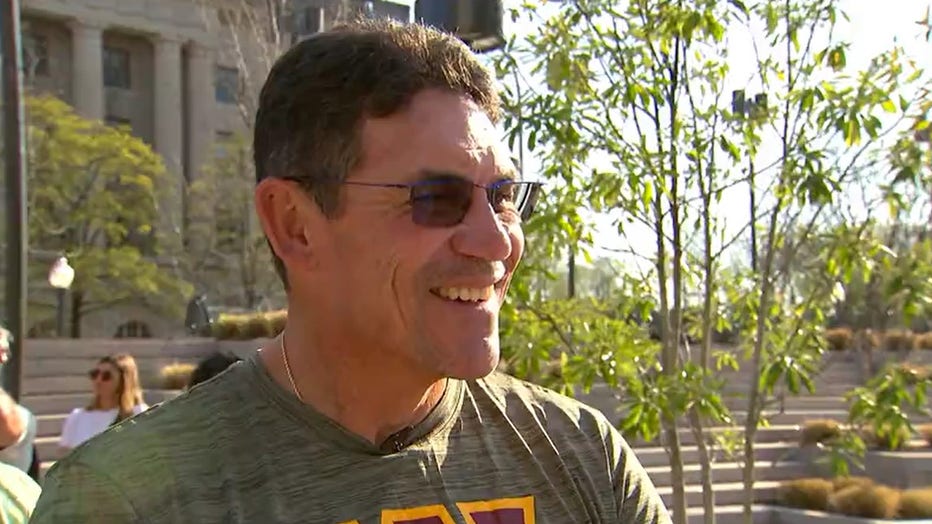 "Now that, you know, everything is kind of settled, the dust has settled, we know where everybody is, what's going to happen and who the folks are, I like the situation. The circumstances I think are very good for us," Rivera told media following the first practice. 
He said overall, the team had a great start to camp and the energy was high. 
"I liked the tempo first and foremost. I thought the guys picked up right where they left off," Rivera said. "For today, very pleased with what we saw out there."
One of the biggest question marks for the team this season is the quarterback position following Taylor Heinecke's departure to the Atlanta Falcons after three seasons with Washington.  
Right now, fifth-round pick Sam Howell is slated as QB1 and will get the first crack at winning the job but he and seven-season veteran Jacoby Brissett will duke it out through camp. 
"It's definitely a blessing for me to be in this opportunity that I'm in. And it's definitely not something that I take for granted but at the same time, I think there's a lot of work left to be done," Howell said after practice. "I'm not complacent at all. I know still everything is ahead of me and I still got to go out there and earn it and prove it each and every day so I'm going to continue to do that," Howell said. 
Howell showed an impressive skill set in his only starting game for the team in Week 18 last season, leading to a 26-6 win over division rivals the Dallas Cowboys.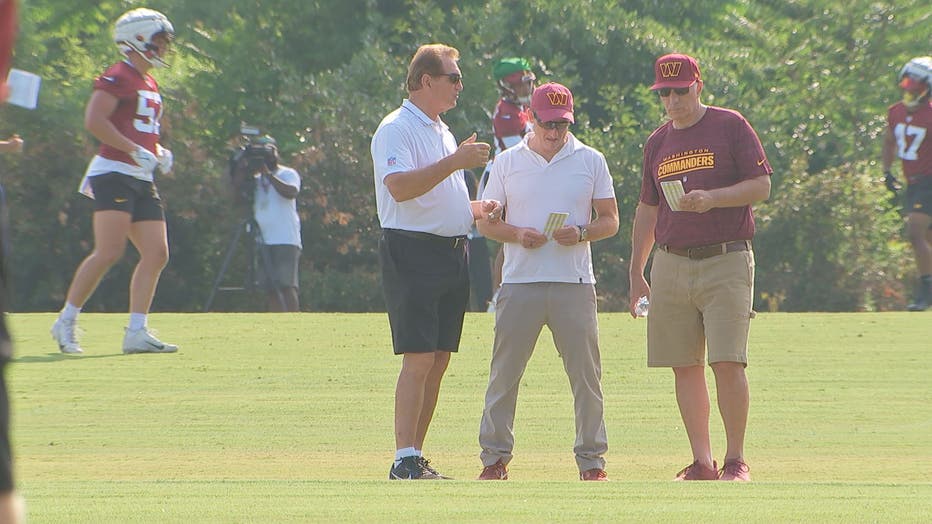 Thirty-year-old Brissett started 11 games for the Browns last season in DeShaun Watson's absence and threw for 2,608 yards, 12 touchdowns and six interceptions.
There aren't many other question marks right now as the rest of the team is relatively set at this point but without the QB spot pinned down, the players will have to remain flexible.   
"I think more than anything else, it will start with the quarterback position. That's about as big a question as it gets. Has Sam grown and developed enough to help us take the next step? Is Jacoby ready to go and compete, and if he gets that chance, will he take us up to the next level? It's a big broad question, but it does start with that position which is the biggest thing," Rivera said Tuesday. 
There are 12 open practices that fans can attend at OrthoVirginia Training Center at Commanders Park beginning on July 27 and going until Aug. 19. Tickets are free for all. Fans can take advantage of the 2,000-seat bleacher viewing area added to the practice fields, or bring their own blankets and lawn chairs to set up adjacent to the practice field. 
"Tomorrow should be even better with the opening of the stands and us having our fan base here. I think it's going to be dynamic and electric. I'm excited about it. I really am. I think our players will feed off of it as they fed off today," Rivera said. 
Players today said they were excited to have fans at the team facility in Ashburn Thursday.
"It's just this kind of clean slate," punter Tress Wray said. "It's just cool being a part of that excitement. I don't know man, it just, it feels different," punter Tress Wray said.
There are some special events taking place throughout camp as well. You can read more about them below:
July 29: NFL Back Together Saturday
On "Back Together Saturday" there will be a series of activations suitable for families, including a Commanders Kids Zone, Washington Legends meet and greets, a live DJ, and performances by Command Force and the Marching Band Drumline. Fans who attend "Back Together Saturday" will receive a Commanders Fan Pack that contains sunscreen, sunglasses, lip balm, a fan, and an autograph booklet for signatures.
Aug. 8: Washington Salute Military Appreciation Day
Washington Salute, the Official Military Appreciation Club of the Washington Commanders, will host a few hundred local military members for a practice experience with players and coaches and a special recognition for service to our nation on Tuesday, August 8.
Aug. 9: Kids Day
The Washington Commanders Charitable Foundation will host approximately 300 kids from DC, Maryland, and Virginia Public Schools as part of Kids Day, including complimentary lunch, a special giveaway, and activities provided by NFL Play60 and Commanders Read.
Click here to get your tickets.