Championships and community impact: Commanders new owner vows to create lasting memories for fans
WASHINGTON -
The Washington Commanders held a press conference and pep rally Friday to celebrate the arrival of the new ownership group led by Josh Harris. 
Fans came from all over to participate in the festivities. The celebratory tailgate included pop-up bars, food trucks, and a performance by DMV artists Oh goody and Big 57. 
The air was filled with optimism as the Commanders bid farewell to the infamously problematic former owner, Dan Snyder. 
"We're here for a great reason," Commanders fan Jay Nash, who drove four and a half hours from Ahoskie, North Carolina, said. "It's the start of a new era."
Stepping in for Snyder is Josh Harris, who is also the majority owner of the Philadelphia 76ers and a co-owner of the New Jersey Devils. Harris, 58, is a Maryland native and a longtime Commanders fan. 
"I've been a fan of this team for as long as I can remember," Harris said during the press conference. "One of my first memories was walking down East Capitol Street with the rest of the fans going into RFK stadium … It really had an indelible mark on me as a human being." 
Other members of the ownership group include NBA champion Magic Johnson as well as Maryland native and billionaire Mitchell Rales.
"I don't invest in sports teams for ego, I invest to win," Johnson said. "We wanna change everything that has happened to this franchise. We see the winners in the front row. Not only did they win Super Bowls, but they made the community great … We want to give back. We want to make an impact in this great community that we're doing business in." 
The Commanders will look to build upon their 2022 campaign, which saw the team go 8-8-1, narrowly missing the playoffs. The team will be entering its fourth season under two-time NFL Coach of the Year Ron Rivera 
"All of our conversations have been around winning," Rivera said during the press conference. "Winning is the primary focus … We have an exciting and young team that's hungry to perform for all of our great fans."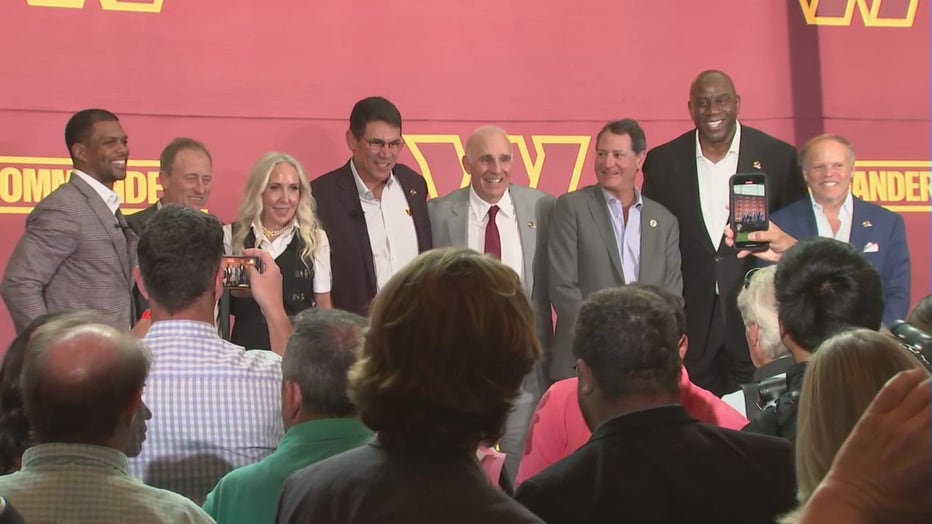 The Commanders are set to open their 2023 season at home against the Arizona Cardinals on Sept. 10.