WMATA: Warnings being issued to drivers blocking bus lanes under; fines up to $200 begin in 45 days
WASHINGTON - The warning period is starting for the Clear Lanes program and WMATA officials say in just 45 days, the District Department of Transportation will be issuing fines for people illegally using bus lanes and parking in bus stop zones. 
The Clear Lanes program is part of Metro's Better Bus Initiative to improve bus service throughout the District. 
Beginning on July 24, cameras mounted on Metro buses will automatically take videos and photos of any vehicles "operating, parking, standing, or stopping in dedicated bus lanes and bus zones."
The pictures are then wirelessly transmitted to the District Department of Transportation for review and they will issue citations through the mail.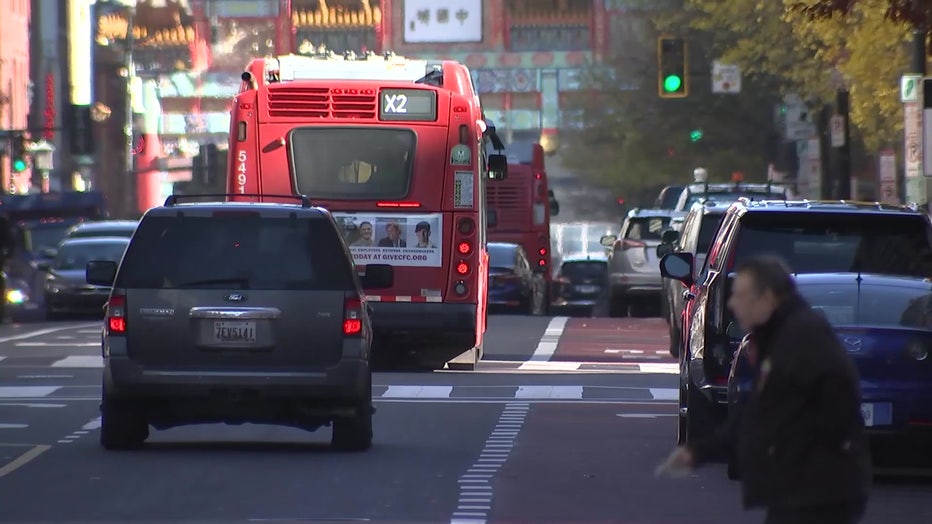 DC initiative will fine drivers for being in bus lanes
"Parking in a bus stop zone for even a minute can prevent the bus from being able to fully pull up to the curb, impacting the ability for bus riders using wheelchairs or mobility devices to board the bus," said DDOT Director Everett Lott. "Keeping our bus lanes and bus zones clear and safe for buses will improve the accessibility and efficiency of our transit network."
The initiative is meant to speed up bus routes, improve reliability and help riders get where they need to go. 
WMATA notes that under the new program, violators will begin receiving notices in the mail from DDOT and once ticketing begins, fines could be up to $200.  
"Keeping our bus lanes and bus stop zones clear of traffic is a significant step to creating a better bus experience for our customers," said Metro General Manager and Chief Executive Officer Randy Clarke. "By partnering with the District, we are helping to keep customers moving safely and reliably while positioning Metrobus as one of the most sustainable and most cost-efficient ways to travel in DC."
Cameras have been installed on 140 buses that run along 31 routes in the District. Full enforcement is expected to begin on Sept. 18.