Dan Snyder to pay NFL $60M after investigator substantiates claims of sexual harassment, financial misconduct
WASHINGTON - Former Washington Commanders owner Dan Snyder has been ordered to pay $60 million to the NFL after allegations of sexual harassment and financial misconduct against him were substantiated by an independent investigator, the NFL announced Thursday. 
The organization released the findings just moments after news of the team's sale was confirmed. 
According to the league, former U.S. Attorney and SEC Chair Mary Jo White — along with her colleagues from Debevoise & Plimpton — conducted a comprehensive investigation after former Commanders cheerleader and marketing employee Tiffani Johnston alleged that Snyder had made unwanted sexual advances toward her. 
In addition to the investigation into Johnston's accusations, in April 2022 White was also asked to look into claims of serious "financial improprieties" made by former Commanders' employee Jason Friedman. 
Friedman testified to the House Oversight Committee in 2022 alleging that team leadership had "repeatedly and deliberately" omitted ticket sales revenue from reports sent to the league. 
He also said that for more than a decade — starting in approximately 2009 — the Commanders kept customers' security deposits put down for multi-year club and suite seats despite their contractual obligation to return the deposit once the leases ended.
Friedman also said the team did not report the money made by holding these security deposits to the league. 
He also corroborated Johnston's claims of harassment, saying he witnessed Snyder physically try to get her to join him in his car following a work-related dinner.
Snyder vehemently denied any wrongdoing following the accusations, calling them "outright lies" and said as much when he testified in front of Congress in July 2022. 
Over 17 months, the league says White and her team conducted interviews with dozens of witnesses, sometimes on multiple occasions, a review of over 10,000 documents and assistance from a team of forensic accountants.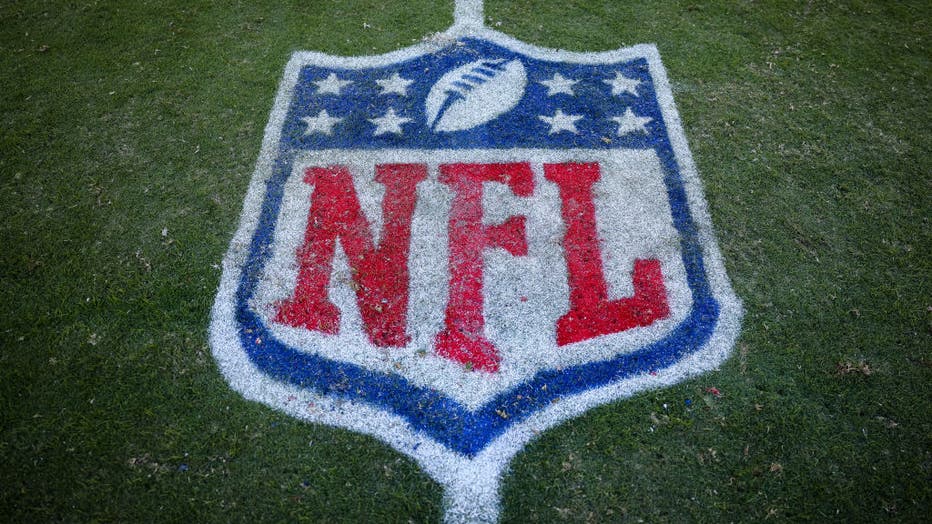 LANDOVER, MD - OCTOBER 09: A general view of an NFL logo on the field during the game between the Washington Commanders and the Tennessee Titans at FedExField on October 9, 2022 in Landover, Maryland. (Photo by Scott Taetsch/Getty Images)
The conclusion of the 23-page document summarizing the findings of the investigation states that "After extensive investigation, we have sustained both Tiffani Johnston's allegation of sexual harassment by Mr. Snyder and Jason Friedman's allegation of deliberate underreporting of NFL revenues by the Club to avoid its VTS sharing obligations." 
"We appreciate the diligence, thoroughness and professionalism of Ms. White and her team throughout this process," NFL Commissioner Roger Goodell said in a statement. "The conduct substantiated in Ms. White's findings has no place in the NFL."
The detailed findings — as well as the team's highly-anticipated sale to Josh Harris — bring a close to a controversial and contentious chapter of the franchise's history. 
Although they still have to contend with a $7.5 million lawsuit that Friedman filed against the team as well as attorney John Brownlee for allegedly "repeatedly and publicly calling him a liar, accusing him of committing the federal crime of perjury, and falsely implying that he was terminated as part of the team's sexual harassment scandal that was being widely reported in the press," after he testified to Congress. 
But Brooklyn Law School Professor Jodi Balsam says she doesn't think Friedman's civil suit will ever make it to a jury — likely a welcome respite for fans suffering through years of turmoil. 
Many have been frustrated by the off-field drama, saying it's pulled the focus away from what they want to see on the field.
"Being able to concentrate on what we're doing on the field and not have to worry about the off the field will be a great relief," fan Frances Walinsky told FOX 5.
New owner Josh Harris has promised to instill a new culture for the team, saying they will "strive every day to ensure that we are a franchise you can be proud of."