Angela Alsobrooks announces bid for Cardin's US Senate seat
LARGO, Md. - Prince George's County Executive Angela Alsobrooks announced her bid for the U.S. Senate seat being vacated by Maryland Senator Ben Cardin in 2024.
Alsobrooks is the former Prince George's County State's Attorney. She was elected Prince George's County Executive in 2018.
Alsobrooks is entering what will likely be a highly competitive primary to replace Cardin who was elected to the Senate in 2006 after spending 20 years in the U.S. House representing a large part of Baltimore and several nearby suburbs.
Maryland Rep. David Trone, Montgomery County Councilmember Will Jawando, and activist Jerome Segal announced their campaigns for the seat earlier this month.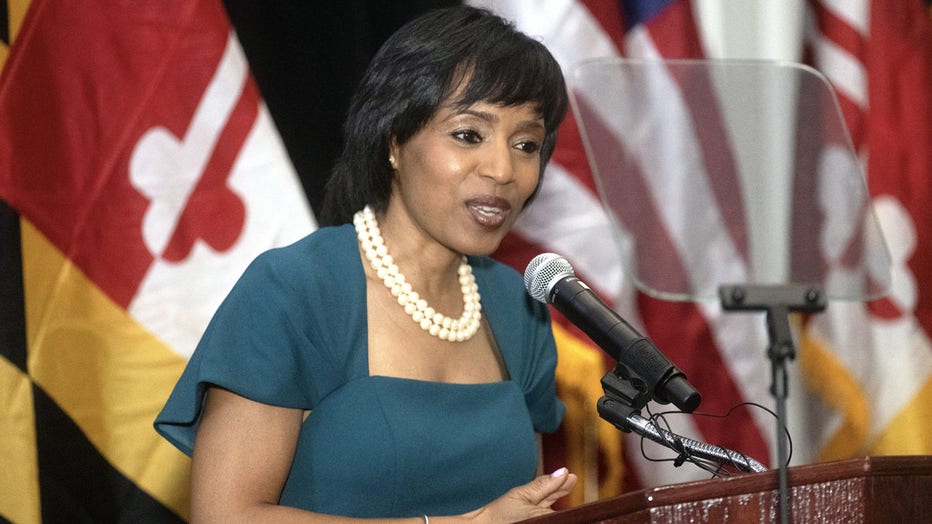 Prince Georges County Executive Angela Alsobrooks delivers the State of the County Budget Address and officially unveils the fiscal year 2024 proposed budget in at the Samuel Riggs IV Alumni Center in College Park, Maryland on March 15, 2023. (Photo
Read the full statement from Angela Alsobrooks announcing her Senate bid below:
Lifelong Marylander Angela Alsobrooks today launched her campaign for U.S. Senate. The former Prince George's County State's Attorney and current County Executive shared the story of how her family came to call Maryland home and what inspired her to public service, committing to be a voice for families across the state.
"There aren't a lot of people like me in the U.S. Senate – people who live like, think like and who look like the people they're supposed to represent, but isn't it time that changed?" said Angela. "I'm running to be a voice for families like the ones I grew up with and who I've worked for my entire life."
Angela was born and raised in Prince George's County. Her father was a newspaper distributer and her mother worked as a hospital receptionist, and they taught Angela to care for her neighbors and give back to her community. She was urged on by her great-grandmother to know her family's history and not to sit on the sidelines but 'go farther and do better."
Answering an early call to public service, Angela held a variety of roles in county government before making history as the youngest and first woman to be elected Prince George's County State's Attorney. As the county's top law enforcement officer, Angela stood up for families, taking on some of Maryland's worst criminals, while treating victims and the accused with dignity and respect. Under her tenure, violent crime dropped by 50 percent and she established a first-of-its-kind unit to investigate and prosecute police and official misconduct.
In 2018, Angela was elected Prince George's County Executive, the first woman to hold the position and the first Black woman elected to the office of County Executive in Maryland history. She has focused on creating jobs and growing economic opportunity, investing in education and breaking ground on 10 new schools, expanding access to health care, mental health and addiction treatment, youth outreach and making sure people are safe.
Raising her own daughter in Upper Marlboro, Angela knows Marylanders should have a Senator who both fights for them and shares their concerns. In the U.S. Senate, Angela will continue to work to improve the lives of Marylanders across the state.