2 children injured after Metrobus altercation; Police search for shooting suspects
WASHINGTON - Police have arrested a suspect and are searching for others in connection with a triple shooting that left a 6-year-old and 9-year-old hurt in Northwest D.C.
According to the Metropolitan Police Department, the shooting was reported around 4:00 p.m. in the 6000 block of 14th Street, near Fort Stevens Drive.
Once at the scene, MPD officers found a 6-year-old female and a 9-year-old male suffering from gunshots wounds. 
The third victim, an adult man, walked to a nearby apartment complex near the intersection of 16th street and Rittenhouse Street after being shot, where he was later found by officers.
All three victims were transported to an area hospital for treatment of non-life-threatening injuries.
READ MORE: DC neighborhood leader calls for more police patrols after 2 children shot in Brightwood
According to investigators, the incident started with an altercation that broke out between a group of people on the Route 54 Metrobus.
Police said several men got onto the bus, including a man armed with a knife who was later identified as one of the victims who was shot. According to investigators, the group then began assaulting another man who was riding the bus.
During the altercation, several of the people involved in the altercation exited the bus at 14th Street and Peabody Street, and that's when police said a suspect in the group pulled out a gun and fired multiple shots.
The suspects the fled the scene. Police released the following photos of the suspects: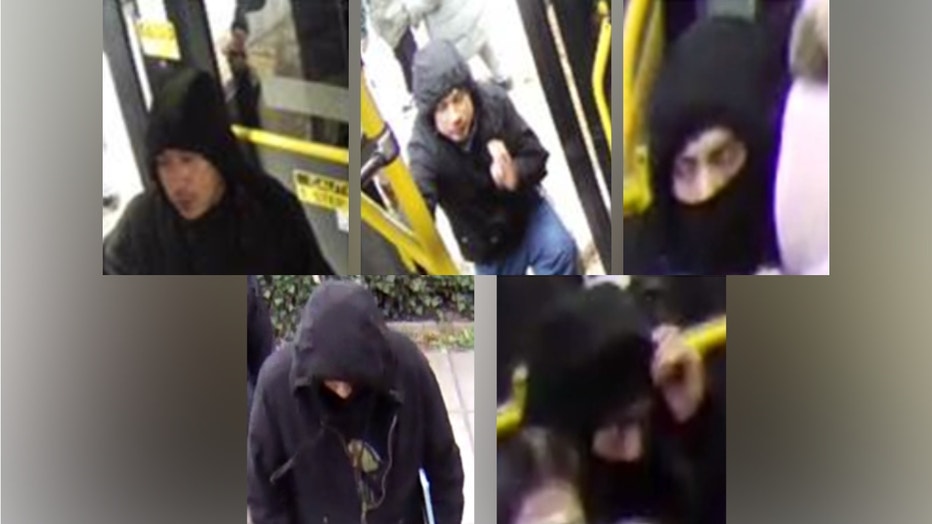 Photo of suspects. (CREDIT: Metropolitan Police Department)
Police said after the shooting, the bus stopped near the intersection of 14th Street and Sheridan Street, and the shooting victims got off the bus.
Responding officers found the two children at the scene were the bus stopped again, while the third victim ran away from the area.
Police later arrested and charged the third shooting victim for the assault.  Stephen Perdomo, 32, of District Heights, Maryland is charged with assault with a dangerous weapon (knife) in connection with the incident.
During a press conference on Wednesday, MPD Police Chief Robert Contee said that the children were returning home from school when the altercation on the bus broke out.
The incident remains under investigation.
Anyone with information about the incident or the suspects involved is asked to call MPD at 202-727-9099 or send a text tip to 50411.
Watch surveillance footage from the bus below: