19-year-old dead after Ida's remnants flood Rockville apartment complex
ROCKVILLE, Md. - A 19-year-old teen is dead after flood waters related to the remnants of what was Hurricane Ida swept through an apartment complex in Rockville early Wednesday morning.
Download the FOX 5 Weather App
Check the latest weather radars
WATCH LIVE COVERAGE OF THE STORMS ON THE FOX 5 APP
FOX 5's Bob Barnard said the incident happened at the Rock Creek Woods Apartments on Twinbrook Parkway. Barnard reported that the body of a man had been found in the flood waters.
The family identified the 19-year-old victim as Melkin Daniel Cedillo.
They are still trying to piece together what happened, but they believe he died trying to help his mother, who cannot swim.
"He was worried about her so he came out from the water, like he was trying to look for a way to help her. He was thinking about her first. And then she came out and he went back again – and he never came back," said Juan Gregorio.
Gregorio shared a GoFundMe page with FOX 5. He said the family had just had dinner together last night and one of their last memories of Cedillo is of the 19-year-old holding his young niece.
Gregorio told FOX 5 his brother-in-law had just gotten a new job and was excited to work. His aunt said he loved sports.
Montgomery County police have not separately released the name of the teenage victim yet.
An official source told FOX 5 earlier, investigators were looking into whether the victim had turned back to help others. 
On Thursday, authorities say they located a person that had originally been unaccounted for.
By Wednesday afternoon, the remnants of Ida triggered multiple tornado warnings across the D.C. region.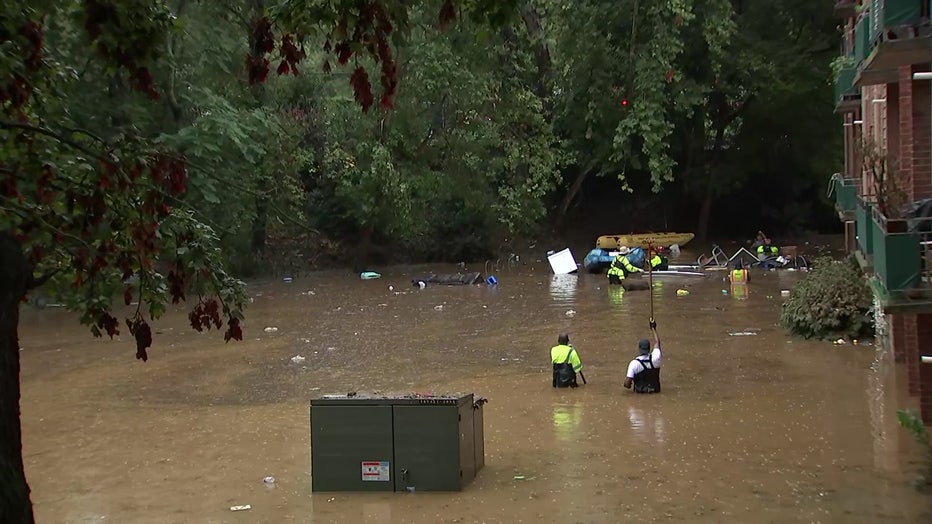 Officials say 150 residents in total have been displaced from their homes. Approximately 40 to 50 unit have lost all access to utilities.
Crews are on the scene searching the flood waters – that at their highest reached several feet high – for one resident who is still unaccounted for.
Elsewhere in the area, multiple occupants were rescued from their homes at the Congressional Towers in Rockville as rain waters rushed into the building.
Stay with FOX 5 on the app and online for weather updates:
Get the latest FOX 5 forecast here.
Check the latest Closings and Delays
Download the FOX 5 DC News App for Local Breaking News and Weather
Download the FOX 5 Weather App
Check the latest weather radars
Stay up to date with the FOX 5 Weather Team on Twitter: