12 years after earthquake hit DC region, head of damaged National Cathedral gargoyle reattached
WASHINGTON - An unusual milestone was reached Wednesday at Washington National Cathedral where crews reattached the head of a gargoyle statue that was damaged twelve years ago during a 5.8 magnitude earthquake that rocked the D.C. region.
The gargoyle, affectionately nicknamed Mr. D. Capitated, was originally carved in the late 1950s. Masons perched on scaffolding along the Cathedral's South Transcept used rods and epoxy to fasten the head back onto the body.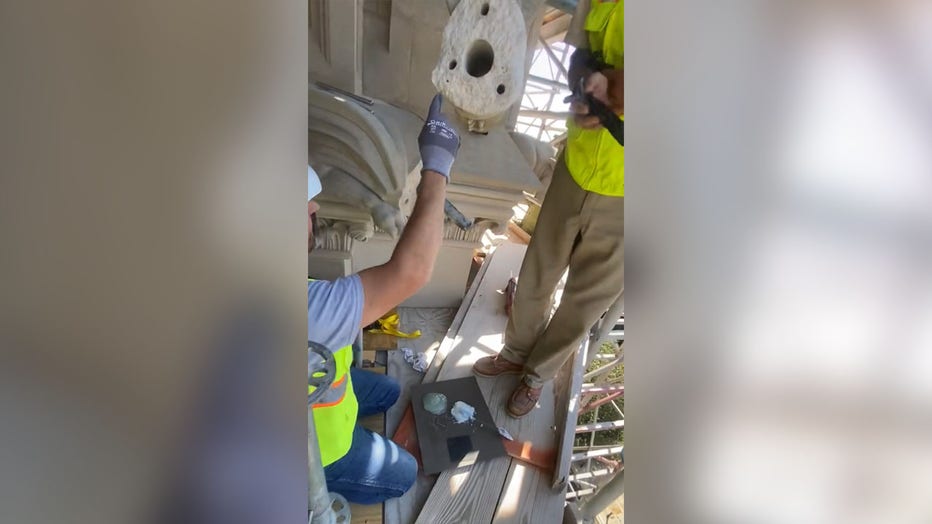 12 years after earthquake hit DC region, head of damaged National Cathedral gargoyle reattached
The statue was one of many structures at the cathedral that was damaged during the quake that struck in the early afternoon of August 23, 2011.
Overall, the Cathedral suffered about $38 million in damage during the quake that created cracks to the building's structure, its towers, and caused chunks of concrete and stone to fall to the ground.
The earthquake was centered near Mineral, Virginia. It rattled the east coast and caused significant damage to some of the most famous landmarks in the nation's capital, including the Cathedral.
Repairs to the Washington Monument cost $15 million and kept it closed for nearly three years. The Smithsonian Institution Building, popularly known as the "Castle" also suffered major damage.
Damage to the Washington National Cathedral in D.C. from the earthquake in central Virginia August 23, 2011. (William Leith, USGS)
No lives were lost in the quake, but property damage estimates totaled between $200 and $300 million, according to the U.S. Geological Survey. The USGS said more than 450 aftershocks - including six greater than magnitude three - were identified in the year after the earthquake.
Officials say they area at the hallway point in the completing the needed repairs to the Cathedral. Built between 1907 and 1990, the cathedral is a landmark in the nation's capital and is the sixth-largest cathedral in the world.