Winter storm may threaten D.C. region early next week
WASHINGTON (FOX 5 DC) - As of Thursday afternoon, weather models are coming into agreement on the possibility of an impactful winter weather event in the Mid-Atlantic region early next week.
The storm is expected to come on the heels of a very cold weekend in the Washington, D.C. region.
High temperatures are expected to struggle to make it out of the 30s on both Saturday and Sunday.
This morning, the National Weather Service placed parts of our region at an enhanced risk of seeing impactful winter weather on Monday into Tuesday of next week.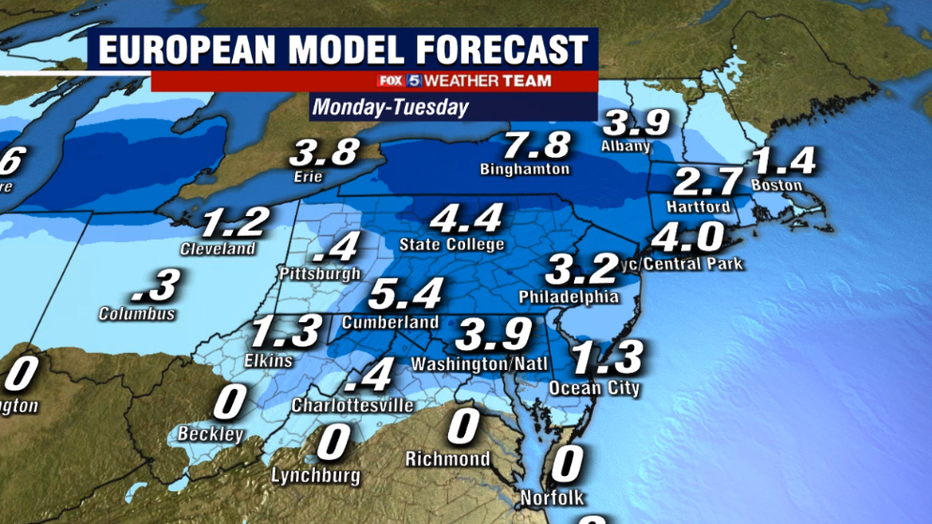 Timing is different depending on the weather model you look at, so the weather team is still working out the exact details on that. 
The latest guidance suggests the potential for moisture to reach the D.C. region during the afternoon hours on Monday, where it would likely initially start off as a period of cold rain or sleet.
As the sun sets though, the air mass would cool and the region would see a transition over to more of a mix to potentially a wet snow. Models are most aggressive with this in our northern and western zones.
Download the FOX 5 DC News App for Local Breaking News and Weather
Snow would then continue to fall into the overnight hours before the system exits our region around or just before dawn on Tuesday.
As with any winter storm, how much snow you could see in your neighborhood continues to vary by specicfic model type and model run.
We are not yet issuing any official snowfall expectations from FOX 5 because we feel it is still too early to put out numbers at this stage, as we have not yet seen enough agreement between the indiviual computer models.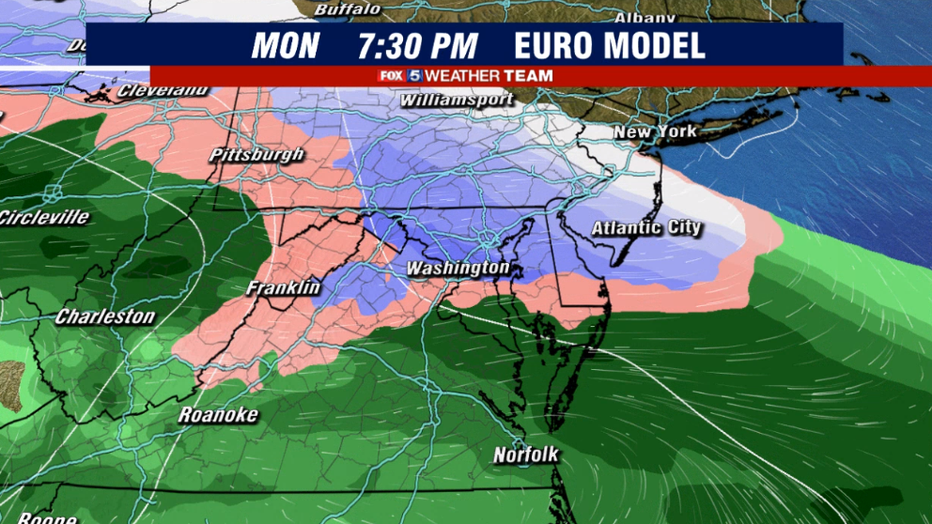 We hope to have more clairty here by the weekend. What we can say is that numbers will be highly dependant on how much cold air sticks around on Monday afternoon, and how strong the storm system becomes as it pushes northward into our region.
Stay tuned with FOX 5 DC, and your weather team will continue to keep you up to date with the latest as the storm gets closer.