DC Heat Wave: Hottest temperatures in 7 years possible for nation's capital later this week
WASHINGTON - This summer has been hot, no doubt about that. Since records began at what is now Reagan National Airport back in the 1940s, this July has been tracking as the 18th hottest on record. Despite this, the heat has lacked extremes. 
In fact, the hottest temperature recorded in Washington, DC this summer so far has been just 94°. If this was to hold through the month of July, it would be our coolest July maximum in nearly two decades. That number is likely to fall as the end of the month approaches, however.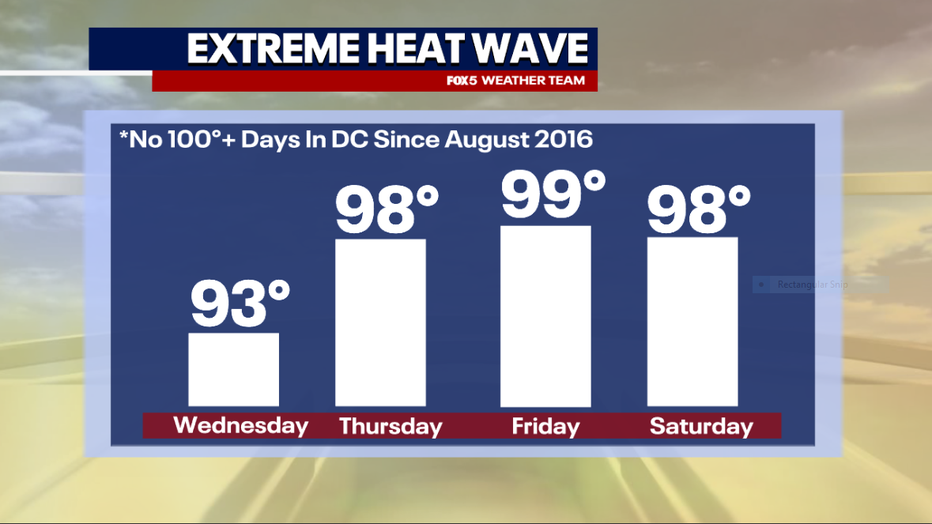 While the DC region has not suffered from extreme heat so far this summer, other areas of the country have. Specifically, Texas and the American Southwest have been under the influence of a strong and persistent ridge of high pressure, known as a heat dome. 
Dallas has been above 100° already eleven times this July., compared to their monthly average of seven. Phoenix, AZ has seen high temperatures exceed 110° every single day this month, including a record tying 116° Monday afternoon. This same heat dome will expand its influence eastward by the end of the workweek, and should easily bring the hottest temperatures of the summer so far to the D.C. region.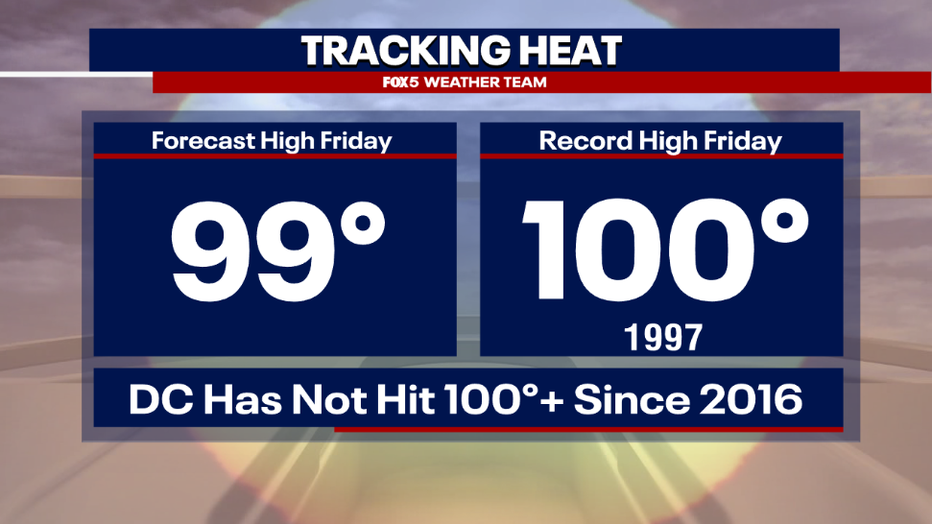 The first day of the extreme heat is forecast to be Thursday afternoon, when highs should surge into the middle to upper 90s. The heat is likely to peak on Friday or Saturday, with highs around 100° possible. This will be near record high levels for both Thursday and Friday, when the record is just 100° on both afternoons. 
Though we have had a number of hot summers in recent years, one thing the D.C. area has surprisingly avoided throughout that time has been triple digit heat. In fact, you have to go back to August of 2016 for the last time Reagan National Airport hit 100°.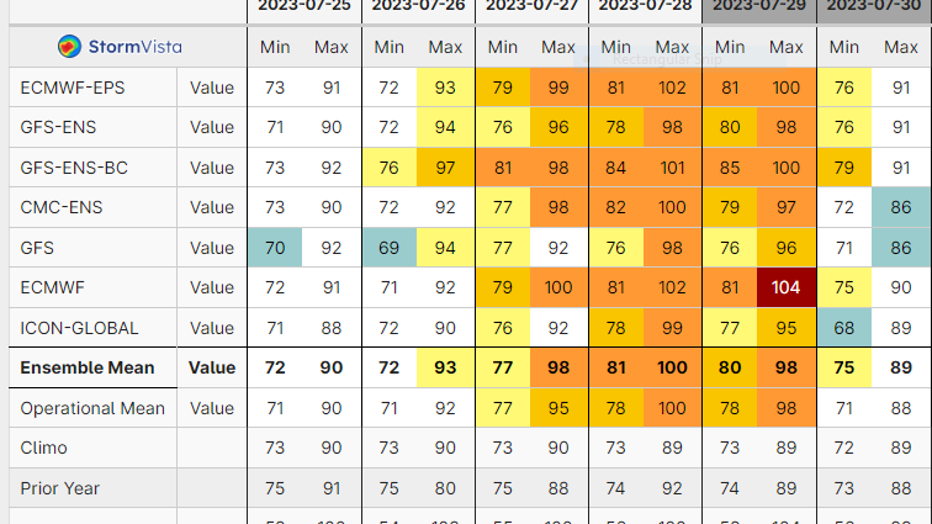 It should be noted that while our forecast is officially just calling for peak highs in the upper 90s in the upcoming heatwaves. The chart above clearly shows that the potential is there for a record-breaking end of the week. Multiple weather models are suggesting that 100°+ weather is possible on both Friday and Saturday. 
What remains in question is just how humid we will be. Dry air heats easier that humid air, so less humidity would actually mean the risk for hotter temperatures, while more humidity means not only that triple digits become less likely, but scattered clouds and pop-up storms become more likely. All of which could also limit daytime heating.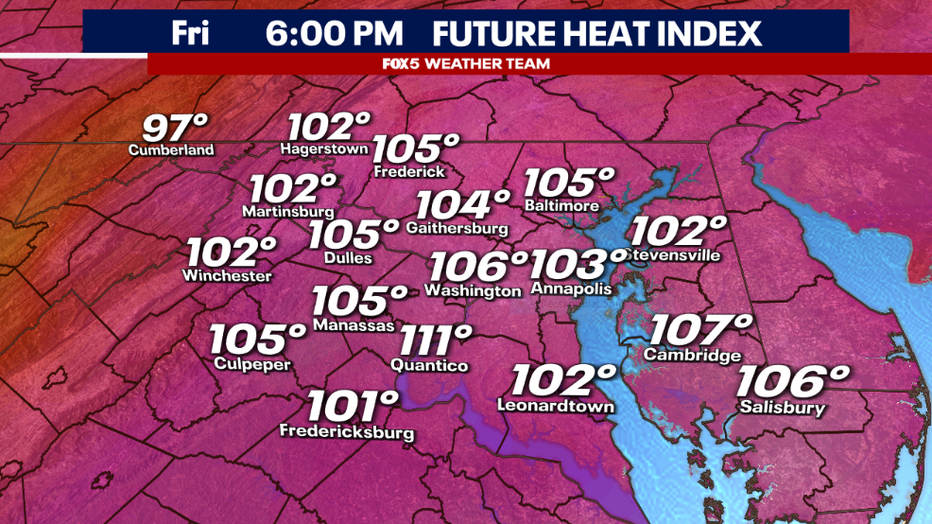 One thing is for sure, when we are talking about air temperatures near 100°…even a little bit of humidity is going to send the heat index (commonly known as the "feels like" temperature) skyrocketing. Heat index values could exceed 105° both Friday and Saturday afternoon, which would put the region at risk of seeing the first heat advisories of the summer issued. 
That level of heat can be dangerous, so please have a plan to keep yourself cool.  In the District of Columbia, extra cooling centers should be open as the Heat Emergency Plan is expected to be activated. Temperatures should cool behind a cold front by the second half of the weekend, though it will bring with it the chance for scattered showers and thunderstorms both Saturday and Sunday afternoons.