Washington Nationals heading to National League Championship Series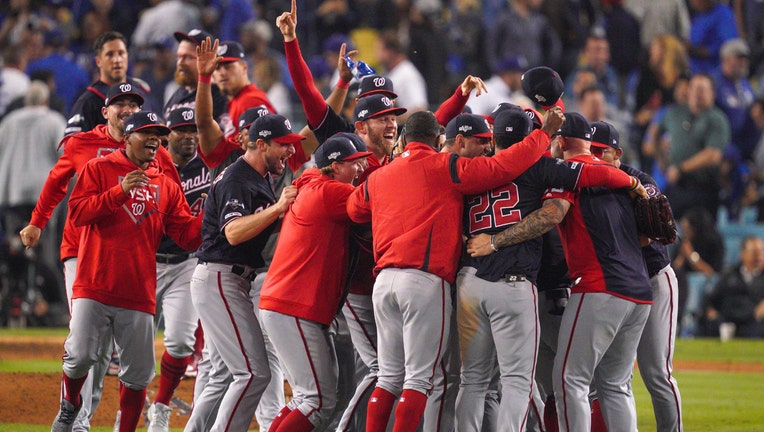 WASHINGTON - The Washington Nationals are heading to the National League Championship Series for the first time after stunning the Dodgers 7-3 in Los Angeles.
The Nationals overcame a 3-0 Los Angeles lead as Anthony Rendon and Juan Soto hit consecutive solo homers in the eighth inning and Howie Kendrick belted a grand slam in the 10th.
Washington will take on the Cardinals in the NLCS, which starts Friday night in St. Louis.
Famous Nationals fans took to Twitter to celebrate the team's elimination game victory. Five-time Olympic gold medalist Katie Ledecky tweeted "Today's mood" along with a photo of herself with arms raised from her August 2016 experience throwing out a first pitch at National Park.
Washington Capitals forward T.J. Oshie tweeted, "LETS GOOOO!!!! No quit in these Nationals." Oshie helped the Capitals win the Stanley Cup in the 2017-2018 season.
According to the team's website, tickets to the scheduled home games on Monday, October 14, Tuesday, October 15 and Wednesday, October 16 (If necessary) are still available. FOX 5's Melanie Alnwick was at the team store at Nationals Park Thurday morning where new 'Division Series Winner' gear was hitting the shelves. 
The Associated Press contributed to this article.