Visit Bradenton issues apology to Bolts fans after outcry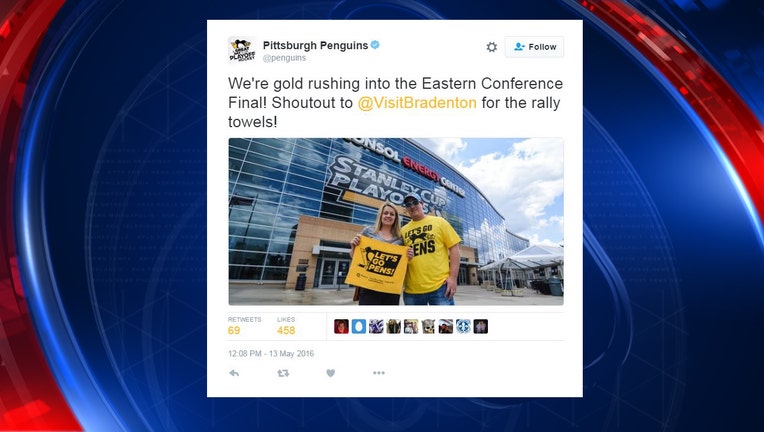 article
BRADENTON (FOX 13) - The Bradenton's visitor's bureau issued an apology after it received backlash for buying rally towels for Pittsburgh Penguins fans who attended the first game of the Eastern Conference Final Friday night.
#BoycottBradenton trended on social media during the Friday night game, after Tampa Bay Lightning fans saw a tweet from the Pittsburgh Penguins, thanking @VisitBradenton for the towels.
The Bradenton Area CVB is funded by taxpayer money, but it was unclear from where money to pay for the towels came.
Bradenton Area CVB issued the following statement after the game ended.
On May 13, 2016, the Pittsburgh Penguins released a statement on Twitter thanking the Bradenton, Anna Maria Island and Longboat Key Area for sponsored promotional materials. The Bradenton Area Convention & Visitors Bureau has released a statement to the Tampa Bay community clarifying the purpose of these promotion items.
"As a destination, we have and will continue to support the Tampa Bay Lightning through our annual marketing initiatives and wish both teams the best of luck in the Eastern Conference Finals," said Elliott Falcione, Executive Director of the Bradenton Area CVB.
The Bradenton Area holds deep roots to the Pittsburgh community being the Spring Training destination for the Pittsburgh Pirates and their sister city. The destination currently has marketing campaigns with multiple Pittsburgh sporting teams, including the Pittsburgh Pirates and Pittsburgh Penguins. Due to these and other initiatives, visitation to the destination from the Pittsburgh area has increased by 37 percent.
The destination also holds a larger advertising buy with the Tampa Bay Lightning as an official partner of the Tampa Bay Lightning and Amalie Arena.
Throughout the state of Florida, it is common for destination marketing organizations to have out-of-state partnerships through sports marketing initiatives, including major league teams.
"It's a great way to get our brand in front of a demographic that meshes with our visitor profile," Falcione explained. "It's about economic development for our region, the entire region which includes Tampa."