Rizzo: Nationals made offer to Bryce Harper late in season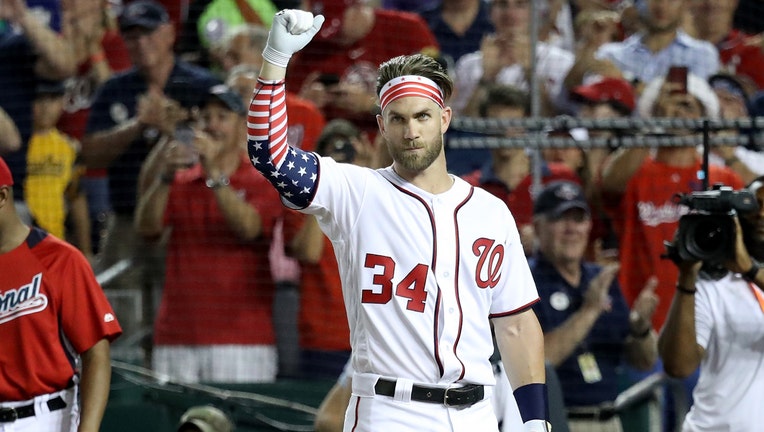 article
CARLSBAD, Calif. - (AP) -- The Washington Nationals made an offer to Bryce Harper late in the season in an attempt to reach a deal before he became a free agent.
Nationals general manager Mike Rizzo disclosed the talks with agent Scott Boras at the general managers' meetings on Tuesday.
"We've had conversations and we utilized our exclusivity to negotiate with him late in the season through when he became eligible to sign with a team," Rizzo said. "We didn't get anything done, but he's a guy that is near and dear to us and we are not closing any doors."
Harper, who turned 26 last month, is expected to receive the largest contract among the 164 free agents. He is a six-time All-Star with 184 homers, 521 RBIs and a .900 OPS.
"He's shown the type of player he is and now he's a grizzled veteran," Rizzo said. "He has done a lot in the game already, and he is just scratching the surface."
Harper was dressed in his full Nats uniform more than 3 1/2 hours before the team's final home game in September and was unsure of his future.
"I can't really stand here and say it's going to be `farewell' or anything like that, because nobody knows. Nobody knows what this offseason holds," he said.
Boras is known for extending talks with his free agents past the holiday break. His clients include Nationals pitchers Max Scherzer and Stephen Strasburg, and former Nats outfielder Jayson Werth.
"It's going to be a challenge to put the best product on the field, and that could include Harper and it could be doing things without Harper," Rizzo said. "There is a reality that we would love to sign him, but we may not. We have to have a strategy and plan put together to win baseball games, not only for 2019 but beyond. I think we have a good strategy in place, a good plan in place, and we have started to begin that process and we will see where it takes us."
------
More AP MLB: https://apnews.com/MLB and https://twitter.com/AP--Sports
© 2018 The Associated Press. All rights reserved. This material may not be published, broadcast, rewritten or redistributed.